Discover amazing Sam's Club member benefits, specifically those for new moms! This post was sponsored by Sam's Club® , however, all opinions of it and its services are my own.
My husband and I have been Sam's Club® members for a little over a year now. And we have been loving all of the savings that membership offers us! We shop at our local Sam's Club all the time, and certainly have our favorite products that we buy over and over again!
As we've welcomed a new baby into our home recently, it's become even handier to have a Sam's Club membership, and the savings even greater.
I am a very cost-conscience buyer, and I have often been leery of club memberships, and always want to know if the membership fees are worth it over the course of the year. Because, if you are only breaking even, it's totally not worth it! Or if you have to travel a long distance to get to your closest one, and the fuel costs negate the extra savings past the membership fee, then it's not worth it either!
Fortunately for us, our Sam's Club is right in town, so the transportation costs to get there are very low. We have definitely saved more than that $45 membership fee! And we love taking the whole family, new baby included, with us to Sam's Club.
I fully believe every new mom should be gifted or purchase a Sam's Club Membership (if one is nearby)!
Sam's Club Member Benefits for New Moms
1. Savings for Joining
You have to pay a $45 membership fee each year to shop at Sam's Club. We actually pay $100 per year for the Sam's Club Plus membership so we can shop early, earn cash rewards, and enjoy free shipping with no minimum purchases (plus we have their credit card to get even more cash back savings!).
But, if you are a first time member, start with the Club Membership. When you sign up for a new Sam's Club membership through this link, you'll receive a $20 gift card, as well as $25 in new member Instant Savings! I LOVE their instant savings, taking advantage of them all year long, and these new member offerings are tight! $5 off Pampers, $4 off Dreft, and a FREE rotisserie chicken (which is delicious!) among other great savings!
They regularly have great savings for moms. Sam's club offers many common baby stuff (formula, diapers, wipes, baby food) in bulk so you won't have to keep running to the store!
As a new mom, those savings are pretty darn priceless!
2. Additional Savings on various items throughout the year.
During the year they also have Instant Savings books, which are like awesome instant coupon savings on top of their already everyday low club prices. When they have those Instant Savings going on, we make sure to stock up on certain everyday essentials.
3. Diaper and Wipes Savings
At Sam's Club, the diaper and wipes boxes are bigger.
While you'll pay more for a bigger box, the cost per diaper is less than you can often find elsewhere. Plus, the larger box means you won't run out as quickly, which is important with those newborns who can blow through up to 10 diapers a day!
Sam's Club carries all the major popular name brand diapers and wipes, like Huggies, as well as their own less expensive Sam's Club brand Member's Mark.

4. Other Baby Essentials Savings
Babies need more than diapers and wipes, so lucky you can pick up other great baby care items and essentials at great prices still at Sam's Club. It's a great place to pick up things like Johnson's® Baby Head to Toe wash, which has their awesome NO MORE TEARS® formula, and Johnson's baby lotion, perfect for a little baby massage time.
They also have great prices on things like Desitin® Rapid Relief Cream and Diaper Genie Elite Diaper pail and refills. You can save on these items (and others) when you become a Sam's Club member.
5. Club Pickup
Life as a mom is busy and taking all your kids into the store can be a hassle, especially when you just need to pick up a few things. I mean the store is pretty large, and sometimes you just don't have the time, or the time you have is better spent napping.
That's when it's awesome that Sam's Club has the option of ordering online and having all the items ready for you as soon as you arrive!
Club Pickup is a free service for Sam's Club members that lets any member order online and pick up at any Sam's Club in the US and Puerto Rico. Simply place your order online and pick up your items from the designated Sam's Club at a time that fits your schedule. Plus, you can save your most commonly bought items for easy reorders.
6. The Shopping Cart
One of the best things about shopping at Sam's Club are the double seated shopping carts and their nice wide baskets.
With five kids, I can fit two kids comfortably in the seat of the cart, and still have plenty of room for all of the great bulk items I'll be picking up on my trip. My five year old may be too big for the basket seat, but if I'm feeling fun, they also have an even bigger cart option that my older kids can sit in.

7. Fresh Produce, Meat, and Cheese at Great Prices
Sam's Club offers quality, affordable fresh fruits, vegetables, meats, and cheeses.
One of the best things to buy at Sam's club is their meat and cheese products as the costs are just so much less than you can find at your local grocery stores per pound or ounce!  And the produce is fresh and delicious.
8. Toilet Paper and Paper Towels Savings
Buying in bulk at Sam's club means a lower cost on other everyday essentials, like toilet paper and paper towels.
As a new mom, these two things will come in very handy, especially as time goes on and your child enters the awesome potty training period and they think that they need a giant wad of toilet paper to wipe their bottoms. You'll be grateful then for the low cost on toilet paper, as your child flushes wads of it down the drain. And paper towels are always handy for all the countless messes your kids are sure to make.
Plus, there are tons of other personal care and toiletry items that you can buy in bulk and bring down that cost per unit price.
9. Multivitamin Savings
Chances are you are still taking some sort of daily multivitamin after giving birth and your (older) children take some sort of daily vitamin as well. One of our favorite purchases is their extra large containers of popular multivitamin brands. They last longer and the cost per pill or gummy are less than you can find at your local grocery store or convenience pharmacy store.
10. Fuel Savings
My husband and I have commented that the fuel savings we get from being Sam's Club members practically pays for the membership itself.
Our local Sam's Club member prices on gasoline is often 20-25 cents less than any other gas station in town. When you're filling up a Suburban with a 35-gallon capacity,  that can mean $7+ in savings every time you fill up. Add in our other vehicle, and the savings add up fast!
*BONUS* Free Samples
And sometimes having a Sam's Club membership is simply awesome because it's a fun place to shop! You can get anything you want there from electronics, outdoor furniture, toys for your kids, clothing, food, mattresses, to books. And as you shop, they treat you to free food and/or drinks! And the pizza and drink combo meal are very affordable and delicious.
Sam's Club provides big savings for growing families! Sign up and save today!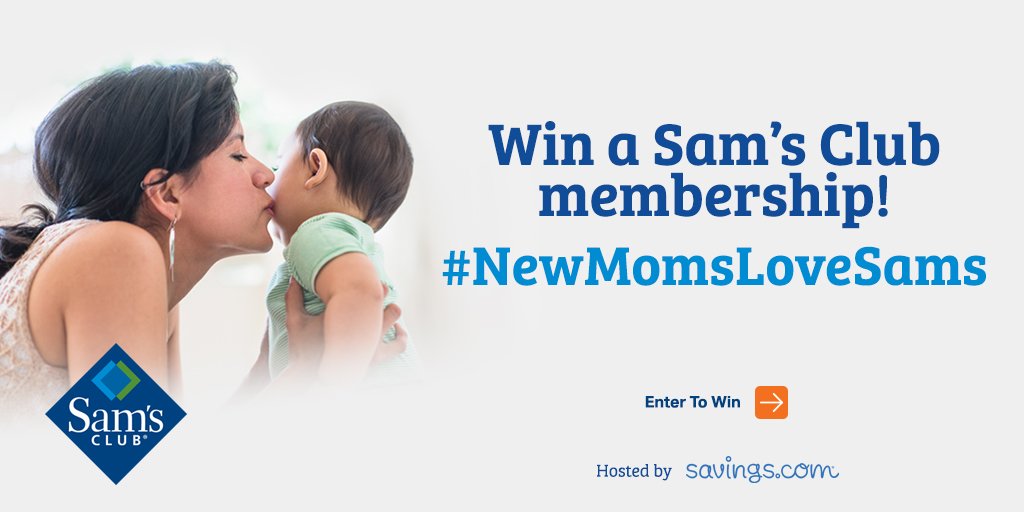 Or you can try and win one of 25 $100 Sam's Plus Gift of Membership Gift Cards! Giveaway ends Friday, November 9, 2018 at 11:59PM ET.
Or you can participate in the #NewMomsLoveSams Twitter Party on Tuesday, November 6 at 10 AM PT where they will be giving away 15 $100 Sam's Plus Gift of Membership gift cards! (P.S. Here read this to understand what a Twitter party is.)
To do so, RSVP for and join the #NewMomsLoveSams Twitter party on November 6th, during which they'll give away $1500 in memberships.

This post was sponsored by Sam's Club, however, the text and opinions are all my own.