This is a sponsored post written by me on behalf of Kleenex® & Cottonelle®. All opinions are 100% mine.
When you live with a husband and four small children in an apartment, the last thing you think you can do is stockpile in an apartment.  When closet space is limited, and garages, basements, pantries, and storage sheds are nonexistent, you look around your small home and think there is no way you could store months' worth of food or toiletries here.
But, if there's a will there is a way.
If you are like us, apartment living still, the budget is tight, and you and your family would benefit from stockpiling, allowing you to have something to rely upon during months that are leaner (for whatever reason). While it may seem like stockpiling is out of the question in your budget, I think if you allocate X amount of dollars each month toward bulk purchases and stockpiling, you will quickly see it's affordable and doable.
This is especially true if you are a Sam's Club member. As a young (and large) family, I think there are at least 10 good reasons why every mom needs a Sam's club membership.  For our family of six it has more than paid for itself in savings.
*RELATED: How to Build a Stockpile Easily and Cheaply in an Apartment
Plus, with Sam's Club/SamsClub.com you can buy and restock your home with everyday essentials like the Kleenex® Ultra 12-pack and Cottonelle® Fresh Care* Wipes without even having to leave your house. Both of them are great as we are currently dealing with several dripping nosed kids and potty training issues.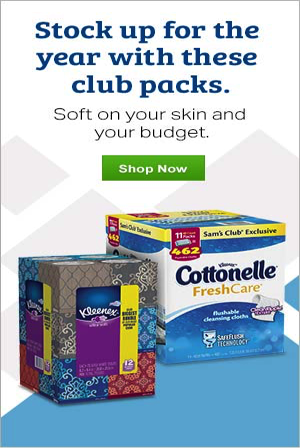 My favorite time to stock up on items at Sam's Club is when they have their instant savings deals. In case their bulk boxes and everyday low prices weren't enough, they often slash the cost on many items around the store. As most items at Sam's Club are like $10 or more, it can be smart to set aside that stockpiling money in your budget and get your needs for the kitchen, bathroom, or your home generally.
23 Places to Stockpile in an Apartment
Once you have your items, we've found some great places to store items in an apartment:
Underneath Kitchen and Bathroom Sinks (secured with these safety locks which are my favorite with young kids)
Bookcases in closets
On top of dressers
In bedroom closets
In linen closets
Rent a storage unit
Empty suitcases and luggage
Coolers not in use
On top of cabinets
Dresser Drawers
Shelving Units
Utility closet
On top of your fridge
Car trunks
Adding tension rods to a small space
Laundry rooms
Boxes, Totes, Cubes
Over the toilet storage units
Hooks
Often the real solution in knowing how to stockpile in an apartment lies in the reorganizing and decluttering of the items you already have! You also need to be okay with some of your spaces not being as "guest friendly" or "pretty."
I assure you that stockpiling in an apartment is totally doable and something I recommend!