Throwing a party for a one-year-old is a little different than throwing a birthday party for a two-year-old.
When your child turns one, the birthday party is more about you and less about them. Your friends come over and bring their babies, and all the parents sit around and talk. Plus, you get tons of new clothes and toys for your baby. All you have to do for a one-year-old baby's birthday party is set up some food and put up some decorations.
A toddler's birthday party, on the other hand, is all about ensuring that the birthday girl
feels special and has fun. Without the proper planning and preparation, things can go awry at a toddler's party. Here are a few tips to help you know how to throw throw a birthday party for your toddler's next birthday bash.
How to Throw a Birthday Party for a Two Year Old
Limit the guest list.
There's no need to invite every toddler and child you know. Just invite the children of a handful or so of close friends. The fewer party guests, the easier throwing the party is going to be. Plus, a smaller, more intimate party can be a lot more fun for you and your child. Your toddler may feel overwhelmed in a house full of people paying attention to her.
Encourage parents to attend too.
The last thing you want is to have to supervise ten toddlers at your child's party. So, make sure you indicate on the party invitations that parents are welcome to come. You'll be able to use any extra help you can get.
Plan to keep the kids entertained.
Expecting children at a toddler's birthday party to keep themselves entertained is unrealistic. The kids are less likely to get into trouble or become upset if they're kept busy. So, plan for the kids to play duck, duck, goose, finger-paint, draw, etc. You may also want to hire a clown or other children's entertainer to come to the party. Clowns, however, should be hired with caution, since some children are afraid of them. Ask your child how he or she feels about a clown to get a feel for whether or not this would be an appropriate choice.
Avoid unnecessary spills.
Get juice boxes and finger foods like carrots, cheese cubes, and apple slices for the party. Juice boxes will help you safeguard your carpet and furniture from spills. And finger food will be easy for the kids to eat and relatively mess-free.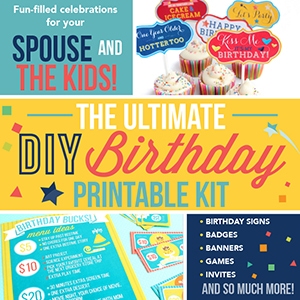 When you're throwing a birthday party for toddlers, your primary goals should be to keep your child happy and avoid stressful situations. Do whatever you can to achieve these goals, and the party is sure to be a hit!
Guest post by Lisa. Lisa is a mom and guest blogger on the subjects of child development, event planning, and Super Mario party supplies. She hopes you are more knowledgeable now on how to throw a birthday party for that toddling 2 year old!