As someone who is educating my kids at home, I am on the lookout for good educational products for my kids, for a reasonable price, for a reasonable amount of educational (or fun) gain. So, I was excited to try out and review Junior Explorers: Arctic Mission Kit with my twin girls as part of our preschool for a week.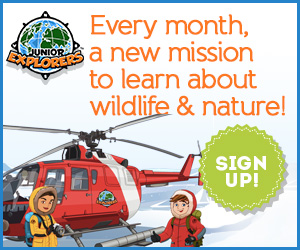 This review is sponsored by Junior Explorers but opinions are all mine. Affiliate links are used in the post.
Junior Explorers is a monthly subscription program that teaches kids about the planet – ecosystems, animals, weather, tips for survival, and more. Each monthly mission kit that you receive in the mail has a special mission dealing with a new ecosystem. The kit included activities, games, cool collectibles, and a secret code to unlock the online missions. The kits are designed for kids ages 6-11.
Junior Explorers Review: Arctic Mission
Our Arctic Mission kit came with a pin, wristband, small flexible animal figurines (a polar bear and a white whale), four arctic postcards, stickers, and temporary tattoos, flashcards, fact sheet, activity sheet, and access code to the online mission.
The Arctic Mission kit we received came in a manila envelope to our mailbox, and inside was the official Junior Explorers envelope with all the above items inside. Together, the girls I read over the postcards, and they dictated what they should say, and who we should send them to. They loved the figurines and put on the pin and the wristband for a while. Together we went over the fact sheet and the flashcards about the arctic and its many unique animals. The details on these sheets and flashcards would then be repeated in the online game, so it was helpful to explain the animals and the terrain.
The Online Mission
But, most of the learning and the whole mission are online at JuniorExplorers.com/login.
As a disclaimer, I feel like I have to say that my kids are almost never allowed to use our desktop computer, except to put on a different song in iTunes. Seriously, that's about it. We haven't done any websites or online learning with our girls, though they have used (and still use) our iPad from time to time to play the Lingo Game – aka Rosetta Stone Kids – as well as other educational and non-educational games. But, the computer and general internet use hasn't been allowed really, for various reasons (maybe a post for a different day).
So, together with my girls, we logged in with our code and went on the mission. The mission teaches you about the various animals as you go along your journey. The Arctic Mission was trying to find the mother polar bear who had apparently abandoned her young cubs. Along the way you come across new animals, which you learn some specific details about, and then have to complete little games and activities, all of which earn them points. These points can then be turned into real donations to nonprofits such as the WWF and the Nature Conservancy. My girls chose to give all 100 of their points to the WWF since they have a stuffed animal from Build-A-Bear who has a necklace from the WWF (so they recognized it).
The good thing about the missions is that you don't have to finish the entire mission in one go – you can resume later if you need to. I learned this a bit accidentally when I hit a button on the keyboard and it took me back to a different page in my browser. I just signed back in, and we resumed in the mission right where we had left off. I say this, because the mission took us about 20-30 minutes to complete.
However, there were somethings I didn't love about the online program. I had to read every little speech bubble, as there was no voice over for the characters, and I also had to click to close the speech bubbles which was a little annoying. It also only ever played the same windy, whisper-like arctic sound throughout the entire mission (however, you can mute it). I also thought the games really lacked clear directions on what to do and more often employed a click and drag and release type of feature, which is hard for my 4 year-olds (and myself). They also just seemed a little glitchy, slow, and outdated. I don't know if you can play this on a tablet and if they would play better on them or not, but that could be.
However, they did make it pretty clear where you were to go next and where to click next by highlighting and pulsing. This was perfect for my four-year-olds who are trying to understand the instructions while still learning new vocabulary and some computer skills.
Another big plus is that this kit was easy to share between my two girls. Other boxes we've received haven't been as easy to split up and share. Plus, you can even create different users for both of them on the online account. So, there's really no need to have a "sibling add-on" feature like some other boxes almost necessitate.
Cost
For 1 Monthly Mission it's $19. For 3 Monthly Missions it's $49 (Save $8) or $16.33/month. For 6 Monthly Missions it's $95 (Save $19) or $15.83/month and for 12 Monthly Missions it's $185 (Save $43) or just $15.42 a month. Shipping is only $2 per month in within the continental US and plans automatically renew, but you can cancel at any time.
So for just $15-19 a month your kid(s) could be doing something fun and educational, and donating to a good cause too. I can think of a lot of things that I might otherwise spend $19 a month on for my kids (like fast food) that aren't nearly as awesome, and certainly not educational as a Junior Explorers membership.
Conclusion
So, I think there are pros and cons to Junior Explorers. I like the kits though find the online missions a bit lackluster. However, if you are in it for the educational value, and your kids happen to love maps, exploring the world, and especially love animals, this would probably be a fantastic product, as I did find the educational information very thorough. I also think the price is pretty fair for a fun monthly adventure.