Last weekend, I really needed to rest. I'm super pregnant, I was exhausted, and my ankles were killing me. And yet, it seemed like literally every five minutes, one of my children needed something. They were hungry, they were fighting, they couldn't find their toys, they were still hungry, they just wanted my attention…
Isn't that how it usually goes as a mother, though?
As much as we want so desperately to be superwoman and do it all (or is that just me??), it seems like we're so busy just trying to take care of the day-to-day that we barely have time for anything else. We'd love to have beautifully clean and decorated homes, but by the time we manage to get the house looking nice, it's covered with toys once again. We'd love help out more with school and with church, but it seems as though we're barely keeping up as it is.
We'd love to be more intentional about our quiet times with God, but at the end of a long and tiring day full of constant demands, we simply have nothing left to give.
The good news is, spending time with God doesn't have to be just another obligation or another thing to check off of your to-do list so you don't feel so guilty when your head hits the pillow. Instead, it is possible to make spending time with God an energizing and satisfying part of your daily routine no matter how busy you are. Here are four ways to do just that.
4 Ways to Make Time for God Amid the Demands of Motherhood
1. Choose the Method that Works Best for You
What worked for you before kids, last summer or even last week may not be what works best for you today. The good news is, quiet times don't always have to happen the same way! Instead, figure out what works best for you.
If you can't sit down to read your Bible, for example, you can probably still listen to a sermon on YouTube, turn on Christian music while you do the dishes, or get the Bible on CD to listen to in your car. You could even post scripture verses or prayer requests around your home so you can say quick prayers throughout the day.
2. Find Your Margin
Chances are, if you look closely enough, you probably have small pockets of time throughout the day that you could use for yourself if you wanted to. Even if you can't wake up early or stay up late, you might have 10 minutes while the kids are playing nicely in the morning, half an hour while they play in the sandbox in the afternoon or 5 minutes in the car as you run them to their various activities.
Instead of wasting this time, why not use it intentionally? Keep your Bible in the car, in your purse or even in the bathroom and it will always be ready when you are–even if it's only for 5 minutes at a time.
3. Involve Your Children
Instead of trying to work around your children's schedules, why not involve your children in your quiet times as well? Declare a 15-20 minute quiet reading time every morning. You can read your Bible while they read a children's Bible or color pictures, or you could all read Bible stories or pray together. If you want to volunteer, find volunteer activities that even preschoolers can do and bring your kids with you!
4. Give Yourself Grace
The truth is–raising good kids is hard work! It's exhausting, frustrating and time-consuming. But how often do we make it more difficult on ourselves than we need it to be? If you want to decorate your children's rooms in the latest Pinterest fashions–go ahead! But don't feel like you have to. If you want to feed your family all organic food that you raise and grow yourself–that's great! But again, don't feel like you have to. You are only one person and you can't do it all, nor should you try.
The same goes with spending time with God. If you want to read the Bible for hours on end and can find the time–that's great! But if you can't, that's okay.
Don't get so caught up in the whats, the whens and the how longs that you completely miss the point. Spending time with God is about cultivating a real relationship–not checking off the check boxes to see if you were a good enough Christian today. Your best is good enough for God–let it be good enough for you as well.
Parenting is hard work! But you don't have to go it alone. Use these four tips to make spending time with God a regular part of your daily life no matter how busy you are, and your faith will be that much more stronger because of it.
Do you struggle to find time for God in the midst of your busy schedule? How do you make God a priority when you have little time to spare?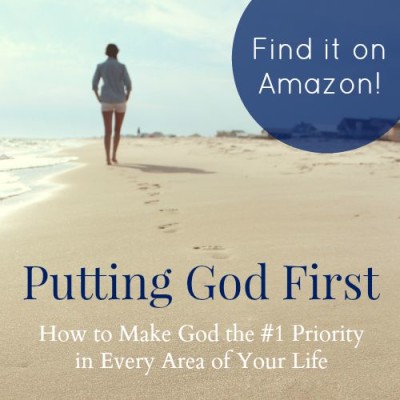 Would you like to make God more of a priority in your life? If so, you'll definitely want to check out Brittany's new ebook, launching on Amazon TODAY, "Putting God First: How to Make God the #1 Priority in Every Area of Your Life." I've read it myself, and it's very good! Plus, it's FREE for a limited time only. Grab your free copy today!
A devoted Christian, wife and mother, Brittany loves helping other women grow in these roles as well. When she isn't busy taking care of her growing family, you can find her at Equipping Godly Women, where she regularly shares tips, tricks and encouragement to help you be the amazing woman God created you to be. Brittany also has a thriving online community on Facebook as well (which I love to follow!).