We are moving soon and the question of where to get free moving boxes always becomes a number one concern as you need moving boxes in order to pack up your home or apartment.
Four years ago, my husband went to U-Haul to buy moving boxes, and I tried to hide my shock that he was spending money on cardboard moving boxes especially when I knew that we could find free moving boxes!
But, since we packed quickly, and for a move across the country, the uniform moving boxes were nice as well as the boxes and other professional moving supplies that were specially designed for things like our dishes.
We have kept these cheap cardboard U-Haul boxes through a few more moves. We gave a few away, but stored the collapsed moving boxes under our queen bed for years now, as we move often. Because we paid for them, and know we'll move again, we don't want to give them away just yet!
If you are renting and moving soon, I highly recommend my moving checklists for renters bundle!
But, many people (and stores) are not so attached to their cardboard moving boxes (thank goodness)! The following is a list of places where you can find free moving boxes.
Where to Get Free Moving Boxes
If you want to get free moving boxes from a store or place of business, it is recommended that you call ahead instead of just dumpster dive or loiter. You can go in store and ask for a manager who can better tell you when shipments come in and if they are willing to hold some larger cardboard boxes for you. Many are very accommodating.
One of the downsides of accumulating free moving boxes from a variety of sources is the variety of box sizes you'll receive, which can make stacking boxes in your moving truck, trunk, or car a little more tricky. But, some of these random sized boxes may be perfect for certain objects in your home which won't fit in more standard-sized cardboard boxes.
Facebook Community Groups
Facebook Marketplace
Friends
Family Members
Department Stores like Walmart or Target
Liquor Stores
Fast Food Restaurants (frozen goods, like McDonald's fries, come in plastic bags inside the boxes so they're clean, and a great size)
Grocery Stores
Office Supply Stores
Bookstores
Banks or Offices (usually boxes with lids, like for reams of paper)
Electronic Stores
Near (or in) dumpsters in apartment complexes
College Dorms
Dollar Stores
Tips for finding free packing materials
There are plenty of places where you can find larger boxes and old boxes to use while moving. The great thing about finding boxes is that all companies use them! To get a good chance of finding a lot of boxes, here are some tips for the easiest way:
Check with a moving company
You never know if they may have some that are too damaged or leftover for them to use.
Talk to book stores
There are a lot of books that get delivered and you can be sure that they have extra boxes lying around.
Check out your local Starbucks
It doesn't hurt to see if there are free packing boxes at the local coffee store! Heavy items get delivered there all the time.
Ask on your social network
Online is a great source for getting tons of free boxes! There are lots of people that have bigger boxes just sitting around that would be happy to hand them off to you with a little planning.
Check with local businesses
Most get a delivery on a daily basis and they're a great option. Just check with them to see when the best time is so that you know when the perfect time is to score a ton of free boxes. You might be able to do this on a weekly basis as well and have better luck!
How to Save Even More on Moving Costs and Have the Best Move Ever
Moving is expensive (especially if moving 1000+ miles away like we'll be doing soon!) and free boxes can help cut down moving costs. See my post for my Top 5 Tips for Saving Money on Moving Costs.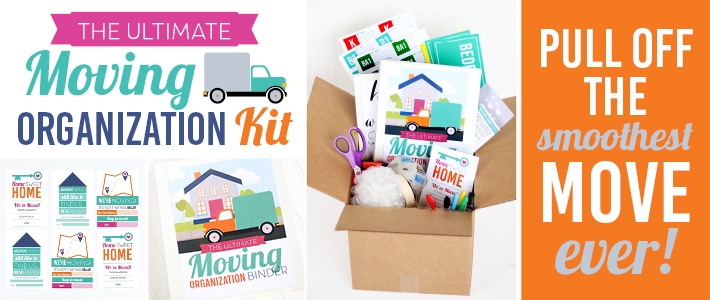 And if you need help staying organized, I highly suggest The Dating Diva's Moving Organization Kit!
Also, be sure to check out Top Moving Tips and Tricks, and Tips for Apartment Hunting – Finding the Perfect New Apartment!
And if you are moving far away with your young kids in tow, read my post Simple Tips for Taking Road Trips with Kids.
Plus, here are 50+ Deep Cleaning Tips and Tricks in case your new home (or current home) needs a little cleaning TLC.
Where have you gotten free moving boxes from before? Where is your favorite place to get moving boxes from?