Discover what baby bathing supplies you need with this handy baby bath time supplies checklist! This is a great list for new parents or just a simple reminder of how to make baby baths easier. These are great tips for a baby's first bath! You want to help to make a baby bath a pleasant experience and these tips are a good idea!
This post is sponsored by Sivan Social. All comments and opinions are my own.
I now have seven children! How crazy is that?! I'm super busy in baby land as we hang out with our brand new baby twins, but I wanted to quickly talk about what baby bathing supplies you need!
When you are filling out those baby registries (which I recommend for every pregnancy, in large part so you can get the free baby stuff for creating them), many give you a bathing checklist of items that you need for your baby.
I am here to tell you that you don't NEED most of it.
Do you know how we did our baby's first bath at home? Like this:
My husband held a baby over the edge of the sink as he gave them a little sponge bath.
We used a regular bath towel underneath them as we washed them, a baby washcloth (we were gifted), some baby soap, and dried them off with a hooded baby towel (also gifted to us).
That's it.
Baby Bath Supplies
You can use regular towels and washcloths for your baby, which means the most important baby bathing supply is actually the baby wash!
We just picked up some Baby Magic Gentle Hair & Body Wash from Walmart, using a $1.00 on any one (1) Baby Magic Product coupon (print your own coupon below).
Select households will also receive an additional $1 off Baby Magic coupons from Valpack so be sure open those Valpack envelopes when they hit your mailbox this month and see if there is one in there.
Baby Magic products are already super affordable so the coupons make it steal of a deal!
You can find Baby Magic products in-store at Walmart, Walgreens, and HEB.
If you prefer, you can also shop all of Baby Magic products on Amazon.
The great thing about the Baby Magic products is that they are made with nourishing formulas, wholesome ingredients, and always made without parabens, phthalates, dyes, mineral oil, and sulfates.
Baby Magic baby wash is tear-free, hypoallergenic, dermatologist-recommended, and has a soft powder scent. It is formulated with calendula oil, coconut oil, and shea butter so your baby is clean and soft after their baby bath!
You can enter a special Savings.com #LoveWithBabyMagic giveaway for a chance to win one of ten (10) $100 Visa e-gift card from Baby Magic.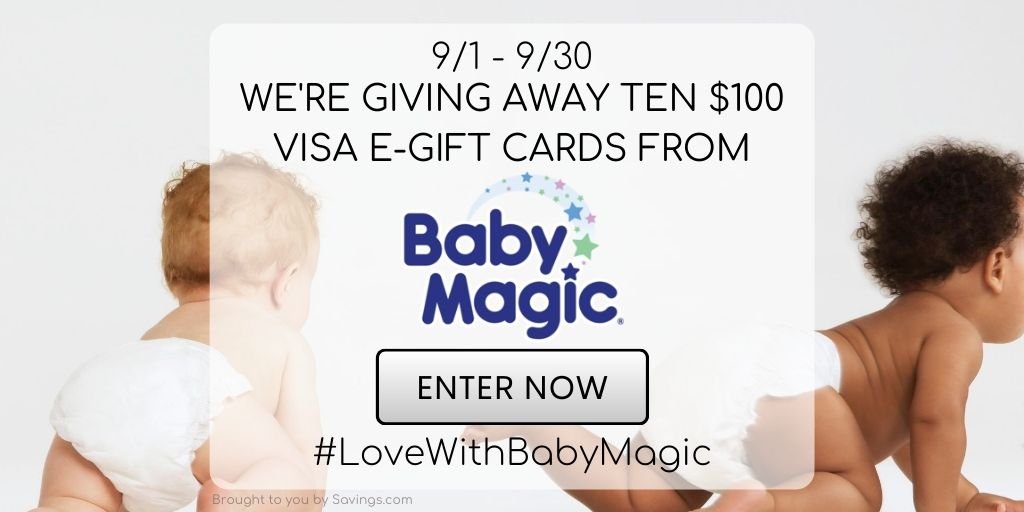 It's a great baby wash for baby's sensitive skin! I don't use my regular body wash or plain soap on babies as their skin needs a lot of moisturing and can be so sensitive.
Baby Bath Equipment and Accessories
After getting a good baby-friendly baby wash (and lotion – Baby Magic also makes baby lotions), I would make sure you have towels and washcloths. Baby-sized ones are helpful, but not 100% needed.
Whatever towels or washcloths you use, be sure you wash them in sensitive detergents so they won't irritate your newborn's skin!
Washcloths are super helpful when bathing babies because you can get one wet in warm water and place it on your baby's chest to keep them warm as you wash the rest of them.
Washcloths are also great for getting in those little folds and flaps that newborns have, like in their armpits, crotch, and neck.
Adult towels can be pretty large to wrap your tiny newborn in, so you can pick up those hooded baby towels that are so cute and not very expensive. They will last for several years too before your child outgrows them.
A baby bath tub or baby bather can be helpful, especially depending on your sink and bathtub/shower situation.
We usually prefer a baby bather than can fold up and is not expensive as takes up less storage space in your bathroom. Plus, we find we don't really use them much past 4-6 months of age.
But the bathers are good for keeping your baby's head up and keeping their middle warmer.
So, to recap, a great set of basic baby bath essentials would be:
Baby Washcloths
Baby Hooded Towels
Baby Bather
Once you get these essentials, there are several other baby accessories out there that you can choose to purchase if you desire, but we've never used them personally as I don't think they are must-have baby bath products. They include things like:
Bathwater thermometer
Bath kneeler and elbow rest pads (for you to kneel/lean against)
Shampoo rinser cup
Bathtub spout covers
Baby bathrobes
Baby toys are fun but you won't really want or need those until your baby is no longer a baby, but a toddler. Same goes with things like bath books.
However, if your baby does have cradle cap or dry skin, I do like the baby bath brushes made just for that! Sometimes you're given them from the hospital and they are pretty handy for bath time.
You should also have handy:
A clean washcloth/ soft washcloth
Bath thermometer
Rinse cup
Nasal aspirator
Baby shampoo
Baby bathtub
Bath toys for older kids
Clean diaper for after the bath
Don't forget that water play is a great way to make baby's bath time so much fun! Just be sure to pay special attention and be super careful while they're in the water. Never leave them alone and always be careful holding a wet baby.
Again, I recommend adding all the bath items you want to your baby registry so, even if no one in your life will actually gift them to you, you can take advantage of the completion discounts and save extra money on these bathing items (and other items on your list).
For more posts about baby essentials and tips, check out the following: