Looking for free samples by mail? Then read on to discover legit free samples that will be delivered to your door. I tried to find ones with no shipping costs!
Free Samples.
They are part of the reason you love having a membership to places like Sam's Club. You can sample some free food while shopping and score another free sample from their in-store Sample Kiosk called a Freeosk.
Free samples are why you love attending events that will be giving away SWAG.
At home parties, you like having little samples, little taste, little trials, of a product before you commit to the real deal.
Free samples are awesome mainly because, well, they are free. Plus, if you like them, they often come with a high-value coupon so you can pick up more.
And I love having travel-sized toothpaste and lotions and other things for when we go on vacation!
It's a big win for the consumer (which is you).
But, you most certainly don't need to have or pay for a Sam's Club Membership or attend some event or host a direct sales party for your friend (though all of those are good!). You can receive awesome free samples from a variety of places simply by entering your email and some basic information about yourself/household.
Some online sites give you monthly free samples of different products.
I have tried out several of the following free sample websites and services.
However, always read the fine print before you start signing up for anything you don't have to – you do want these to actually be FREE samples, not samples that cost you $15+ after shipping and signing up for 10 other offers along the way.
Be aware of scams (I tried hard to make sure these were all very legit sample websites – if one isn't, please let me know!).
Companies Offering Legit Free Samples by the Mail
1) PINCHme Monthly Sample Boxes
PINCHme is an online destination that lets you try products from leading brands, completely for FREE! All they ask is for your feedback on the products.
Every month, an amazing range of free samples are released on PINCHme for members to claim. These samples include pet, grocery, baby, beauty, home and personal care.
They recently sent me a Premium Blogger Box which showcased samples that have been featured on PINCHme.com in past, present, and/or future Sample Days. Regular members do not receive boxes quite this size.
I thought it was pretty cool to get these samples, even though I'm not usually one for all the personal care products (like the Pond's anti-wrinkle cream).
I will totally be using the Nexcare bandages, have used the Boon Snug Spout which turn regular cups into sippy cups (which are genius by the way!) with my almost one year old baby, already know that the Balmex diaper rash cream is amazing (because it's so needed when your child gets a terrible diaper rash and you want to cry like your baby), and I never say no to a good Kashi GOLEAN bar!
I like that many of the products have coupons attached so that I can save on them if I do decide I like them. I love couponing and saving money at the grocery store, especially on everyday essentials.
There are lots of things to love about the PINCHme sample boxes! If you want to receive one yourself be sure to PINCHme for this month's Sample Tuesday!

Here's How It Works:
1. Sign up for free now on PINCHme.com
2. Complete your member profile
3. Order free samples relevant to you
4. Give your feedback!
Why You Should Sign Up:
● 100% FREE to join, no credit card required
● Free shipping on all box orders
● New products each and every month
● Join over 2 Million+ happy PINCHers nationwide
● Products include grocery, baby, pet, beauty, home and personal care
Signup for PINCHme soon so you can request your samples of choice for this month! If you miss it, just be sure you're ready for the next Sample Tuesday.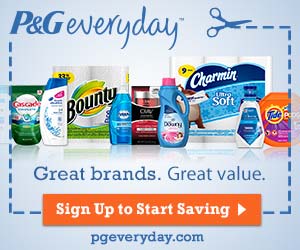 P&G Everyday Free Samples
P&G Everyday is a community where you get loads of great tips and inspiration, recipes and advice.
As a registered member you will also receive great deals, coupons and samples of exclusive P&G products, which make it easier than ever to get the quality that you want from brands like: Pampers, Tide, Bounty, Crest, Always, Mr. Clean, Cascade, DAWN, Charmin, Gillette, DURACELL, Swiffer, OldSpice, Febreze, and IAMS.
Sign up here.
Daily Goodie Box
Daily Goodie Box sends you a box of free goodies and all you do is let them kno what you think of the samples you receive. Shipping is free and they do not ask for any credit card information. They send out Good Boxes daily but is always limited to availability. You can cancel your account at any time.
After you fill out your profile, they will ask you if you are interested in other rewards and freebie sites, various company newsletters, and other "free" offers like for a free PentagonFit Fitness tracker (but it isn't 100% free and it signs you up for their subscriptions). You can choose to do these, but they are totally optional and are third-party partners.
Now you just need to check back and see if you can claim one of the next Goodie Boxes! Plus, members can try to win free stuff on their Facebook page every single day, so sign up! 10-100 people get freebies there every day!
Free Baby Samples from The Baby Box Co.
For years in Finland new moms received a gift from the government that contained baby clothes, free diapers, bathing products and a small box with mattress insert so that every baby would have the basic essentials. This is initiative helped drastically lower their infant mortality rate to one of the lowest in the world!
Now in America (and other countries), you can receive this same type of gift thanks to Baby Box University.
I also received a free baby box from The Baby Box Co. and did a review of the items that came in it (pictured above).
To qualify for one of these free boxes you need to do the following:
Go to BabyBoxCo.com and sign-up for a free account.
Click the "Continue" button under the "Learn your way to free rewards."
Watch your video course (about 15-20 minutes) full of information about safe sleep and newborn care.
Take a short quiz.
Select how you wish to receive your Free Safe Sleep Bundle. Depending on your location, you will be able to ship it to your home or pick it up at a nearby location.
Put your baby in the box after it arrives and enjoy the breastfeeding samples and other free baby samples.
Influenster Free Samples
Discover. Review. Share. Influenster is a free-to-join community of trendsetters, social media hotshots, and educated consumers who live to give opinions of products and experiences.
I joined Influenster back in February 2014 when it was invite-only and you had to know someone who knew someone to join. It's not like that anymore.
You won't receive free samples and products every month from Influenster. They will send you emails asking you to answer a few quick questions to see if you qualify for their next VoxBox.
If you don't qualify (which I often don't for one reason or another – I'm not really into makeup or skincare so they aren't a great fit for me usually) don't worry! One will come along that you do qualify for and then you'll have a cute little VoxBox appear in your mailbox shortly thereafter.
The best box I received was from Victoria's Secret Sport! I was sent brand new Victoria's Secret Sport Bra and workout capri pants. Considering they retail for like $40-60 each, this was quite the free sample!
Unfortunately, I didn't love either one, but, I have them as backups if I need them. I also received coupons for free food/products and samples like Popchips, Mr. Sketch Scented Marker, and goodnessknows snack squares.
Then there was the time they sent me Reese's Spreads too…
You can try to "auto-qualify" for an upcoming box by completing badges, reviews, and using their new app.
There are different ways to add influence and earn badges on their platform which help you get more free stuff.
Influenster is its own social platform.
Sign up for Influenster and get in line for your first box!
Noobie Box – Free Breastfeeding Samples
I did a Noobie Box review sharing everything I received in this free baby box. Many of the items were breastfeeding samples – breast pads, milk storage bags, a lactation cookie, and a Mam bottle and pacifier, among other baby supplies.
The box is free, but it does charge you a $6.95 shipping fee.
Request a free Noobie Box here and you can also get 20% off any other Noobie Boxes (I've gone on to earn free Noobie boxes for my child's entire first year – some are very nice and valuable!).
Free Walmart Baby Box Samples
I also received and did a Walmart Baby Box review on my site, reviewing the three different boxes they have available – prenatal, newborn, and toddler.
These are free with a $5 shipping and handling charge each time they ship a box. This is technically a subscription, but it's easy to cancel in your online profile and/or change subscriptions or add one. They send out new boxes about once a quarter.
The items they put in their boxes changes, so you might receive other products or samples when you order a box.
Sign up to receive your Free Walmart Baby Box here.
MySavings.com Free Samples
To keep up to date with short-lived free sample and freebie deals, you can check out out MySavings.com's Free Samples page.
It seems some may require you to "qualify" through a survey first or to be part of a panel, but some look like legit free stuff either via coupons or discounts applied toward purchases. Some of the shares are promo deals.
There is currently a Free Sample of Enfagrow Premium Toddler Next Step formula, for example!
I wish I had more great sites that offer valuable free samples for you, but these will certainly get you started receiving some free samples in the mail! Do you know of another great place for receiving free samples? Let me know!
*Bonus* – BzzAgent is another site that sends you products to try out for free! You will need to review them on social channels and/or a blog though. You can learn more here.