I am a sucker for free stuff, especially free breastfeeding supplies, breastfeeding samples, and other breastfeeding freebies. These freebies would be great for new mothers who are expecting a new baby soon!
Free Breastfeeding Supplies and Samples
While generally speaking you don't need a lot to breastfeed your baby (I should know, I've breastfed five babies now, including supplementing breastfed twins) many things are still SUPER helpful to have, especially if the price is nothing (or very little).
I scoured the internet looking for the best legit breastfeeding freebies for breastfeeding samples, breastfeeding supplies, and other free breastfeeding stuff, because everyone loves free samples in the mail!
This includes free breast pumps, lanolin, nursing pads, nursing clothes, bottles, and more.
Not every item on this list is 100% free; some simply require you to sign up for a newsletter while others require you to buy the product the coupon is intended for, pay shipping and handling fees, or do actually cost a few dollars, but are a great deal.
I've tried to include all that information for you so there will be no surprises later.
I hope you enjoy my list of breastfeeding freebies for new moms. Some of these would make great gifts for expecting moms too!
Always feel free to let me know of other breastfeeding samples and freebies or if deals or links stop working (it happens).
Free Breastfeeding Supplies
It's pretty awesome that many of the necessary breastfeeding supplies you can score for free, or free with shipping! Anything free that will help with your breastfeeding goals is a great addition. Special offers like these are just really hard to pass up. Having a good breastfeeding experience means that you do want to have everything you need on hand. This could be the best breast pump or great freebies that can help new parents out.
Free Breast Pump
One of the most important things breastfeeding moms need in terms of breastfeeding supplies is a high-quality breast pump.
Even if you intend to breastfeed from the breast the majority of the time, it's still super handy to have a breast pump on hand, even if just a simple manual pump, just in case you are engorged and need to find some relief, but also in case you'll find yourself away from baby for an extended period of time. Or for lots of other reasons!
Health Insurance Plans in the US now must cover the cost of a breast pump.
If you want help getting a breast pump for free through your insurance, I highly recommend Aeroflow Breastpumps!
Aeroflow Breastpumps is the leading provider of free breast pumps through insurance in the US.
As an expecting mother or new mom, you just need to complete their simple form, and they take it from there: they contact the doctor, insurance company, and of course, you, to get you the best pump at no cost to you! Qualify for a free breast pump through insurance here.
If you qualify for WIC resources (Women Infants and Children), you may also be able to receive a free breast pump from them as well.
Pretty much every hospital I have ever delivered a baby at is super happy to send you home with a free manual hand breast pump, so you should at least be able to get that as a free breastfeeding supply directly from the hospital.
Many hospitals also supplied me with extra tubes, bottles, and other pumping parts. Simply request the brand of your breast pump at home, and what supplies you need before you leave the hospital from your lactation consultant.
Free Nursing Pillow
I love having a nursing pillow prop up those newborns and infant while breastfeeding! It saves your back and supports your baby better.
You can get a FREE nursing pillow ($40 value) in your choice in any of their nine prints use promo code FAGANS40 (it takes $40.00 off the price) from NursingPillow.com.
You only pay the (roughly) $12.95 shipping fees, which still makes it way cheaper than a Boppy pillow (which is totally what I bought with my first and cost $39.99 with the cover).
Get your free nursing pillow here with code FAGANS40.
Free Reusable Breast Pads
While you receive many free breast pads as you collect breastfeeding samples (listed later in this post) I am a fan of limiting waste and saving money by using reusable breast pads.
You can pick up to 10 FREE pairs of designer reusable breast pads (a $35 value) for free with promo code FAGANS35 from BreastPads.com. This promo code takes $35 off the price. You only pay (roughly) a $14.96 shipping and processing fee. That makes each PAIR under $1.50 (much less than you'll find elsewhere).
They have over 30 different fun and flirty style to choose from (since we need something to make us feel sexy postpartum) and their pads are 5 ply, 100%, machine washable.
Also, if you want more pairs, any additional set of 2 pairs are only $2 (normally $7 for 2 pairs) or $1 per pair!
These are great gifts for new moms too (and something they often forget they'll need to buy).
Get your free breast pads here with code FAGANS35.
Free Nursing Cover
I had an Uddercover nursing cover with my twins and I loved the pretty design and how easy it was to use and wear! Unfortunately, I lost it. ?
Thankfully, you and I can pick up a FREE Udder Cover with promo code FAGANS35 (a $34.95 value). This promo code will take off 100% of the nursing cover purchase and all you are required to pay are the shipping fees of (roughly) $14.97+.
Udder Covers come in 24 different prints which you upgrade from the standard 100% cotton nursing cover with adjustable steel D-rings neckline to a muslin material or organic cotton fabric if you prefer (muslin is awesome) for your nursing cover.
You can even choose to upgrade to a gift set that comes with two pairs of breast pads and a milk band and you can choose to personalize and embroider your nursing cover during the checkout process for $6.95 (the FAGANS35 promo code takes off $35 your total order).
You'll also have the option in checkout to buy an extra one (always handy! Keep one at home and one in the diaper bag) for just $8-10 each.
Get your free nursing cover with promo code FAGANS35 now!
Free Milk Bands Breastfeeding Bracelets
I totally wish I had milk band nursing bracelets with my twins! But, even with my single babies and dealing with breastfeeding sleep deprivation, these milk bands would be super helpful.
A milk band helps you record single feeding sessions to the nearest 5-minute increment and allow you to record multiple feeding sessions over a full day period and what time you last nursed your baby and on which side (and without having to switch wrists).
They come in 10 different colors (5 bold and 5 pastel options) and are made of 100% silicone.
Individual bands are $6.99 plus shipping but you can pick up a 5-pack of different color bands for $34.95 for free with promo code FAGANS35, just pay the (roughly) $10.95 shipping and handling fees.
You can buy only one as well and the promo code will take off 100% of that cost too. It's up to you.
Get 5 FREE milk bands with promo code FAGANS35 now!
Free Breastfeeding Samples
There are many places happy to hand out free breastfeeding samples, things like Lansinoh lanolin ointment, breastmilk storage bags, disposable breast pads, and even things like lactation cookies.
Noobie Box – Free Breastfeeding Samples
I did a Noobie Box review sharing everything I received in this free baby box. Many of the items were breastfeeding samples – breast pads, milk storage bags, a lactation cookie, and a Mam bottle and pacifier, among other baby supplies.
The box is free, but it does charge you a $9.95 shipping fee.
Request a free Noobie Box here and you can also get 20% off any other Noobie Boxes with code NOOBIEFAGAN. I've gone on to earn free Noobie boxes for my child's entire first year – some are very nice and valuable!
Free Walmart Baby Box Samples
I also received and did a Walmart Baby Box review on my site, reviewing the three different boxes they have available – prenatal, newborn, and toddler.
These are free with a $5 shipping and handling charge each time they ship a box. This is technically a subscription, but it's easy to cancel in your online profile and/or change subscriptions or add one. They send out new boxes about once a quarter.
Of the three boxes I received, not one actually contained any breastfeeding samples.
That said, the items they put in their boxes changes, so you might receive other products or samples that are breastfeeding related when you order a box. They did send bottles and pacifiers though!
Sign up to receive your Free Walmart Baby Box here.
Free Baby Box from The Baby Box Co.
For years in Finland new moms received a gift from the government that contained baby clothes, free diapers, bathing products and a small box with mattress insert so that every baby would have the basic essentials. This is initiative helped drastically lower their infant mortality rate to one of the lowest in the world!
Now in America (and other countries), you can receive this same type of gift thanks to Baby Box University.
I also received a free baby box from The Baby Box Co. and did a review of the items that came in it (pictured above).
To qualify for one of these free boxes you need to do the following:
Go to BabyBoxCo.com and sign-up for a free account.
Click the "Continue" button under the "Learn your way to free rewards."
Watch your video course (about 15-20 minutes) full of information about safe sleep and newborn care.
Take a short quiz.
Select how you wish to receive your Free Safe Sleep Bundle. Depending on your location, you will be able to ship it to your home or pick it up at a nearby location.
Put your baby in the box after it arrives and enjoy the breastfeeding samples and other free baby samples.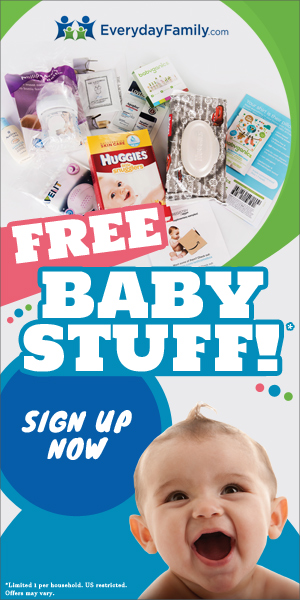 Free Breastfeeding Stuff from EverydayFamily.com
I signed up for EverydayFamily.com shortly after getting pregnant for the first time as they provide a ton of great stage-by-stage, week-by-week updates on your pregnancy, and because they send you breastfeeding freebies along with other baby freebies in the mail.
They also send you offers and weekly coupon alerts as well as access to free baby samples, baby coupons, baby magazines and more.
I don't know for sure what free breastfeeding supplies they are providing in their latest shipments of free baby products, but likely a bottle at least, and maybe some formula for supplementing breastfeeding.
Be sure to sign up for EverydayFamily.com to get your free baby stuff.
Free Breastfeeding Samples from Baby Registries
Another great way to get free breastfeeding samples and cheaper costs on items you need is by signing up for baby registries!
Check out my post on the 5 Best Baby Registry Stores and Sites and be sure to sign up for one or more of them so you can save and get free stuff too.
But, for reference, my sister recently received free Target Baby registry benefits including a bunch of free samples (click that link to see everything she received) in summer 2018.
Among the many items were breastmilk storage bags, disposable nursing pads, and two baby bottles, and a pacifier.
Breastfeeding Freebies from Hospitals
I mentioned this a little above when I talked about getting free breast pumps, but hospitals are so good about giving out breastfeeding samples and other free breastfeeding stuff.
I usually come home with enough lanolin sample tubes that I don't have to ever buy a bigger tube from the store (a little goes a long way!). I also go home with lots of nursing pads, nipple shields (if I used any or request them), pacifiers, milk storage bags, breast pump parts, bottles, and free breastfeeding information and helplines.
And of course your hospital should provide you with a free lactation consultant visit or two during your stay, so be sure to ask them ALL your questions and soak up their knowledge (but also be sure to read my post about what I wish lactation consultants also taught).
I hope you found something great to take advantage of for yourself or someone else!
Feel free to share this with others so they can take advantage of these breastfeeding freebies while they last. Let me know which ones you take advantage of!
If you are looking for nursing clothes, here's my list of affordable nursing clothes (all under $40) as well as a great way to try out various nursing tops and dresses using Le Tote!
Insurance companies do have benefits for new moms too and might even have some options for breastfeeding education and virtual support tips. Always check with them to see if they are able to offer you a kind of pump to use or more!
More Pregnancy Posts