Looking for gifts for outdoorsy guys? Then this is your list! Below you'll find gifts for outdoorsy men, whether it's your boyfriend, your outdoor dad, or your outdoor enthusiast friend, these items would make his adventure time outdoors even better! And a huge perk is that they are totally cool gifts and very practical. 
If you need the perfect gift for someone who loves to go on a camping trip or trek through the national parks, this list is full of great items that are perfect for outdoor adventures. Outdoorsy gifts for men also mean that they're great for any outdoorsy person, so you can get some great ideas here for anyone who loves outdoor activities!
Today we celebrate a special breed of man in your life.
You know who they are.
They're the guy that gets up and out of the house to go hiking or biking early in the morning to catch the sunrise. They're the guy that takes you camping even in the dog days of summer. They're the guy leading the expedition down the river in tube, boat, canoe or raft.
They're your adventurous, outdoorsy man. Whether father, husband, boyfriend, or son, they love the outdoors and all the excitement that comes from getting from here to there whether it's up a cliff, down a mountainside, or through the river. (Note, if your guy is a cyclist, this isn't the gift guide for them. Hit up our Gifts for Cyclists gift guide instead!)
To keep these outdoor guys going and as a way of celebrating their adventurous spirit, we think the following 9 main gift ideas are perfect ways of saying how much you appreciate the excitement they bring to your life.
Gifts for Outdoorsy Guys
Great Gift Ideas for an Outdoor-Loving Man
Looking at the sun to tell the time is difficult, even for the most adventurous man, and makes it hard to answer such questions as "How long have we been on this hike?" "What are our latitude and longitude?" or "How many calories have I burned?"
All these questions are basics for your outdoor enthusiast and can be answered easily with the latest smartwatches and fitness trackers. We all know about the Fitbits and Apple Watches, which certainly have their advantages, but whose styling might be a little too sleek, Silicon Valley, tech-boy for your ruff and tumble guy.
When it comes to adventuring, the Garmin tactix does it all and more!
The Garmin tactix features an LCD screen, with a green LED backlight mode designed to work with nightvision, you know, in case that's your outdoor lover's thing. It comes with very sensitive GPS, barometer, altimeter, and compass. The tactix even features what Garmin calls a TracBack mode which will guide you back to the start of any long hike your man takes in the great outdoors.
The battery will last up to 50 hours when he out on a trek using the GPS mode, and 5 weeks otherwise. The tactix has a heart rate monitor, and will do all the things a fitbit does (e.g., distance, pace, cadence and calories) but better.
And unlike the Fitbit and Apple Watch, the Garmin tactix is extremely durable, designed specifically to meet military tactical unit specifications. It is scratch resistant and rated for up to 50 meters of submersion in water.
Budget Consideration
If the Garmin tactix is outside your price range, you might also consider the Suunto Core. It has many of the same features as the Garmin tactix, but at a fraction of the cost. The Core comes in multiple configurations at a plethora of price points, and features a similarly rugged design.
Best Gift Ideas for Outdoor Use
Whether it's to hold just a few things or everything, your adventurous man always needs some portable storage. For those times when it's keys, wallet and a nutrition bar, small hydration backpacks like the Camelbak Mil-Tac or the Unigear Tactical work wonders. They're small enough that the added weight won't slow him down, but the storage and 1.5 and 2.5 liters of water respectively will mean he can stay hydrated for hours.
Does he need a little more than keys and wallet, maybe a small bedroll and a few other overnight necessities? Well a lightweight trail backpack might do the trick.
Backpacks like the Osprey Exos 48 and Granite Gear Crown 2 re great for overnight hikes, where weight and versatility are key. Unloaded, all three backpack weigh less than 3 lbs, but can hold between 48 and 60 liters in volume, more than enough room for what he'll need and nothing he won't. Additionally, each internal frame backpack comes in a selection of sizes, so whether your man's shoulders are as broad as the mountains he climbs or slender as twigs, there's sure to be a bag that will work for him.
Does your man scoff at overnight? Is he into something more like over-week hikes? Then 60 liters might not be enough, in fact a backpack alone might not do the trick.
For your man, you may wish to consider the High Sierra Titan, Long Trail or Appalachian, Teton Sports Explorer 4000, or if he's the type who prefers to have the ultimate control, the ALPS OutdoorZ Commander Frame. The 5 bags range in size from 65 to 90 liters of volume, whereas the Commander Frame is limited only by what he can latch to the frame and get off the ground. This selection of "backpacks" will get him and his stuff to wherever he's going and allow him to hole up for days and even weeks if need be.
Finally, does your outdoor man have an adventurous baby he's looking to take with him?
For this, super adventurous man, nay hero, carriers like the Osprey Poco AG and Poco AG Plus are slick and organized, whereas the Clevr Baby Backpack Cross Country Carrier offers some nice benefits for baby. These are great gifts for the outdoor dad (and many props to him)!
*RELATED: Totally Fun Adventure and Experience Gifts for Him
Ideal Gift for Capturing Mother Nature
Wherever your outdoor man goes, it's bound to be selfie worthy, if he's into that of course. He might need to take an epic group shot from a summit, or at the end of a century ride, or after a day of rafting, or just because the moment is right. If not, perhaps he just wants to document a place or the scenery. Whatever his reason, your outdoor man should be armed with something more than just a silly camera phone.
While GoPro has long been the option for action and outdoor video and photography, consumer drones are quickly becoming the go-to adventuring tech.
Not only do quadcopters like the new DJI Mavic Air up the ante for epic photography, but they can be handy for helping navigate in secluded areas by giving your outdoorsman a higher vantage than otherwise possible, making tough navigation decisions easier.
The Mavic Air is lite and compact, as it is able to collapse into a footprint that makes it easy carry in a small pouch of his favorite hiking bag. It's new 3-axis gimbal allows the camera to shoot amazing spherical panoramas, and the camera itself will shoot epic 4k and slow-motion videos, and amazing HDR photos.
One of the nice features of the Mavic Air is a full set of obstacle avoidance sensors. This means that if your adventurous man is also something of a tech klutz, he is less likely to come home with a broken copter. Additionally, it has a follow mode so he can take some cool video for his vlog as he climbs, bikes, rafts, or treks without having to directly control the drone.
The Air comes in a variety of colors, and includes one battery, four ultra-quiet propellers, and a folding remote controller which hooks up with his cell phone to give additional controls. All in all, it is a novel and fun way for your adventure seeker to document the moment.
Budget Considerations:
At the smaller and cheaper (but no less versatile) range of the market you can find quadcopters like the DJI Spark. These quadcopters are loaded with features, but come with a few drawbacks over the more expensive drones on the market. They both do HD video and come in small form factors for even more portability.
Notably, the Spark can be controlled using hand gestures to get just the right picture, and the Bebop 2 comes with a set of POV goggles. Either is a good budget choice offering great fun, versatility, and value.
Gift ideas for any Outdoorsman Friend

One of the most basic tools for outdoor men is the knife. A good knife, with good steel, is worth its weight in gold. That isn't to discount the awesome multi-tools and hobby specific tools that exist out there. For instance, the Leatherman Wave+ or Raptor, the classic Victorinox Swiss Army Fieldmaster Knife, or the Gerber Dime are great all-around multi-tools to suit a variety of budgets and needs. While all of these include a sharp edge of some sort, as the fictitious Aussie bushman, "Crocodile" Dundee, would say, "That's not a knife…"
This is a knife, and it's one of the best performing bushcrafting knives on the market. The Bark River Gunny Hunter comes with a variety of handles, but make sure the steel is the CPM 3V steel. This steel is the real deal, it holds an edge very well, doesn't corrode, and is surprisingly easy to sharpen for how well it holds an edge. It's great for feather sticking and the spine is perfect for starting fires with a magnesium fire starter. It is an outdoorsman's dream come true.
It isn't as Rambo looking as the renown Fallkniven S1 pro, nor is it as polished as a fully custom knife, but for a mass produced knife at a decent price, not only is the Hunter a great performing and comfortable knife but it is nice to look at as well.
Budget Considerations:
While a great knife is awesome, sometimes you have to realize that a tool is simply a tool and may get lost or damaged in the course of it's life, and that shouldn't matter. That's why you might consider the Morakniv Companion, a great knife for under $20. If lost or broken it can be easily replaced.
*RELATED: 14 Fun & Needed Gift Ideas for New Gun Owners
Wide Variety of Outdoor Guy Gifts
Everyone who's been to Cabelas or any other outdoor store in the last 5 years has heard of Yeti. They're taking over one $250 cooler at a time, and quite frankly let them. Let all the people who buy them as status symbols purchase these coolers for their drinks, when a much cheaper cooler would work just the same. It's their prerogative.
When shopping for a cooler for your adventurous man, you have to ask the question, what does he need it for? Does he camp for days at a time and therefore need something like the K2 Coolers. This rotational molded (rotomolded) cooler offers many of the same design features offered by Yeti, but at a fraction of the cost. It's perfect for long camping trips as it is able to keep ice for 7-10 days. With a gasket seal and holes for optional padlocks, the Palm is ideal for camping even in bear country.
If your man is constantly on the move (e.g., hiking, climbing, rafting or even hunting), than perhaps a solid cooler isn't the thing for him. The Engel HD30 is very portable alternative to Yeti Hopper Flip 18.
All three of these soft side coolers will keep drinks and food cold for up to 5 days, but the RTIC is a third the price of the Yeti, while the Engel is $100 less. All are well built, durable options that come in other sizes as well.
Finally, if your man is that guy whose activities necessitate a larger than large cooler, with all the bells and whistles (e.g., he's a big game hunter or deep-sea fisherman) then before you take the step off of insanity and purchase the Yeti 350, consider first trying something more the size of the Engel 165 or even the YETI Tundra 160. Both will hold enough for most every outdoor man out there without taking this month's house and car payment.
Budget Considerations:
If all else fails, Coleman and Igloo coolers have worked for years. No, they aren't flashy, and no you don't get the same performance as the big money brands, but they work well enough for most people.
So, if your adventurous man doesn't need 10 days of ice, and status symbols aren't his thing, then get him a cooler that he can take to the pool, on road trips, to the campground, or pretty much anywhere else while still leaving some cash in your pocket.
Helping find the right direction gifts
In all his adventuring, have you ever gotten the call, "can you come pick me up… I lost my keys?" If so, then perhaps it's time to look into getting your outdoor enthusiast a digital key finder.
Currently, there are quite a few options in this market. Some of the most notable options are the Tile Sport, Tile Mate, TrackR Pixel, TrackR bravo, and Chipolo Classic.
All 5 products are small GPS devices that, in conjunction with your smartphone, can help you find your keys in a pinch. The TrackR Pixel and Chipolo Classic are especially attractive options because they both have replaceable batteries, while the others you would have to outright replace when the battery dies.
If battery replacement isn't a problem, then the Tile Sport may be the best for your adventurous man as it is the only option claiming to be waterproof, while the Tile Mate claims some water-resistant capability.
Because they are GPS devices, your outdoor man does not need to limit them to keys though, and could be put one in his favorite backpack lest he should forget it, or if the worst were to happen and he didn't show up home when he was supposed to, it could help in finding him before bad becomes worse.
Gift that just might be their new favorite gadget
You're never going to get the best sounding tunes in the great outdoors. If your outdoorsy man wants that, then he probably needs to become an indoor audiophile. Until he takes up that hobby too, here are a couple of better than decent options for taking down the river, on a bike ride, or perched on his new backpack on the big hike.
First off, there's the JBL Clip 2, a waterproof, portable Bluetooth speaker. This little speaker you know if quality because it is made by JBL, and is designed for your active man. It comes with a carabineer ready to attach to his bag and work seamlessly with his smartphone to give him great sounding music on the go, and at under $50 you can't go wrong. This is by no means the only one of this style, for around the same price there are many imitators you could check out.
At a slightly larger size point, there's also the Ultimate Ears WONDERBOOM. This waterproof speaker has a 10-hour battery life, meaning he'll be running out of energy before the tunes do. This one doesn't feature a built-in clip, but has an affixed elastic loop that a carabineer could easily be latched.
At the top end of the waterproof speaker spectrum is the JBL Charge 3. This versatile speaker packs a crystal clear punch to delivers good quality sound, and can keep it up for around 20 hours.
Charging Outdoor Gear Gifts
Because you want him to check in regularly, or because he wants to keep using the awesome speaker you just bought him, he's going to need to charge his stuff on the go. But your outdoorsy guy doesn't have the time to hang out in his car or by the power outlet. There aren't such things when you're three days into a week-long hike.
So, what should he do?
Well, you could get him a portable charger. Check out the Anker Power Core 10000, a 10000mAh charger that can give your average smartphone around 2-3 charges.
But your man lives off the land, water, and sun, why not give him the unlimited power of the sun?!
Behold! Your outdoor lover guy can thank the tech geniuses behind these solar USB chargers! They come in a variety of shapes and size; Dizaul 5000mAh Solar Charger is one. This compact solar panes each offer power for his things all day long, so when he finally stops for the night, the only reason you won't get that call is because he's out of cell phone service range.
Subscription Boxes – Easy Holiday Shopping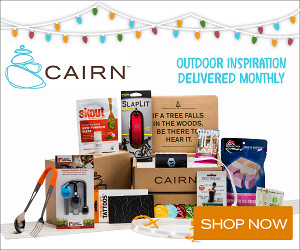 We all know the best gifts are the ones that keep on giving, right? That's why it can be an awesome idea to gift your outdoorsy dad or boyfriend a subscription box for him!
Cairn is a subscription box service started by a group of outdoor enthusiasts to bring outdoor inspiration right to your doorstep every month. It takes the guesswork of having to know exactly what to get your outdoor lover too. Big win there!
Each box has up to a $50 value for $27.45/month (for 12-year subscription), $28.25/month (6-month subscription), or $29.95/monthly. These Original Boxes comes with up to 6 full-size (not dumb sample-sized) curated outdoor products, and shipping is free in the U.S. too.
However, you can go BIG and upgrade your gift for your outdoorsy man with Cairn's Obsidian Box which is only delivered quarterly but contains 5-10 premium outdoor products and has a combined $300+ retail value in each box for only $249.95 (free shipping still for the US).
Cairn boxes feature apparel like socks, gloves, and beanies, outdoor gear like lighting, hydration, and cookware, food and energy like energy bars, trail snacks, and drink mixes, skin care like sun products, insect repellents, lip balms, and Emergency equipment like First-Aid kits, Firestarters, and navigation tools.
A really cool thing about Cairn is their "Gear Up Give Back" program. Cairn will send you a bag to fill with your worn out outdoor gear which you send back to them to repair and sell in their shop. The net proceeds are matched by Cairn and Gear Fix, and donated to The Conservation Alliance. Learn more about Cairn.
What are some simple gift ideas for men who love the great outdoors?
Merino wool socks and beef jerky are not only useful but at a great price point as well. Any holiday gift listed above is a thoughtful gift that will make an epic gift. Perfect for fishing trips, car camping, and more.
If you want more gift guides for men, check out the following ideas too!: