Hello awesome What's Up Fagans? readers! My name is Chelsea and I blog at Life With My Littles. Talking about pregnancy and babies is one of my favorite things to do, and I am excited to share these ways to help a new mom today to celebrate Katelyn having her baby!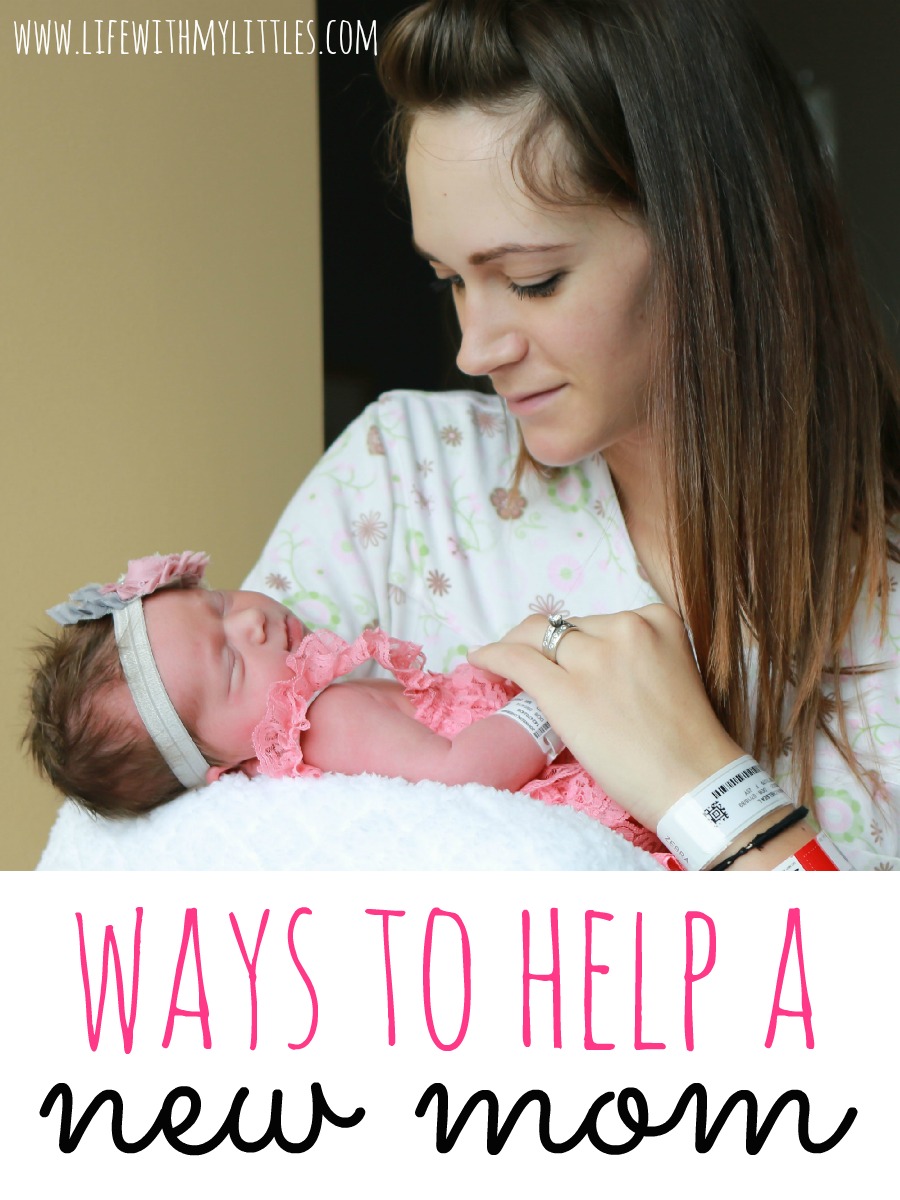 Speaking as a mom who has had two babies, it can take a bit to adjust to having a newborn around the house. Not just getting back into a routine, but taking care of a new person, taking care of yourself, and trying to stay on top of chores at home.
After both of my babies were born, I had a few people come over and help me more than I think they knew. Even just something small can help a new mom feel loved and take away some of the stress of adjusting to her new life. Here are some ways that you can help out a new mom:
1. Clean her house. Now I know that not every mom is going to take you up on this offer, but if they do, you can be a huge help! Even just vacuuming or doing a load of laundry can be a huge help to a new mom who is trying to manage taking care of her new baby and keep up with taking care of her house. You can do as little or as much as you are comfortable with. Either way, it's going to help eliminate something off the new mom's to-do list!
2. Babysit her other kids (or her baby). When your baby is born, it can be hard to find time in your schedule to shower or even take a nap! So offer to watch her other kids so she can have time alone with her new baby, or even offer to watch her baby so she can have a little peace. Thirty minutes of quiet time might be all she needs to get refreshed and feel a lot better.
3. Bring a meal! I don't know if anyone in this world would ever turn down an offer of free food. So make a meal (or two or three) and bring it over so she doesn't have to cook. When my babies were both first born, I didn't really feel like making a nice dinner for a while. It was so helpful when people brought a hot dinner because it meant more time to relax and spend with my baby! And if you aren't a huge cook, ask what her favorite restaurant is and bring some take-out over. She will be super grateful and won't forget that you did it for her.
4. Bring over a few groceries. I remember that I had little to no desire to go grocery shopping when my babies were both born. As a result, we had a pretty bare pantry for a while. So ask her what she needs, or even just bring over some staples like milk, bread, and eggs. Her whole family will thank you for it, and she will be grateful that she doesn't have to try and go to the store with her baby!
5. Visit. I had a few friends who just came over to talk and meet the new baby. It was nice to have some company because oftentimes new moms can get lonely when their husbands are at work all day and it's just them and the baby. It is helpful to have someone to talk to other than just your baby (who obviously won't talk back!). But make sure you call before you come over. You don't want to wake a sleeping baby!
6. Go on a walk together. When my first was born, I started walking with a few other moms who had just had babies, too. I loved being able to get out of the house and get some fresh air and a little post pregnancy exercise at the same time! And it also satisfied my craving for talking to friends!
7. Ask if there are any errands she needs you to run for her. Like I said, it can be overwhelming to think about running errands when you have a new baby. So while you are out just call her and ask if she needs anything. Maybe she needs some new diapers. Or maybe she just needs a roll of toilet paper. Offer to grab it for her, and don't let her pay you back!
8. Bring her a magazine or book to read. Sometimes babies take forever to eat! Whether she is breastfeeding or bottle-feeding, it is the best to have something to read while feeding! So get a book that you know she'll love or bring a magazine full of fashion and celebrity gossip. She'll be glad to take a break from watching reruns of that sitcom from twenty years ago.
It doesn't matter if a new mom is on her first or fourth baby. All new moms need help in some way! And one of these is bound to brighten her spirits and lighten her load. If she says no once, try again in a week. Or try something else! New moms need help, and they will be happy you thought of them!
Thanks to Katelyn for letting me guest post today! If you want to read some more posts about pregnancy and babies, check out 14 Things to Do When You Find Out You Are Pregnant, 25 Things to Do Before Your Baby is Born, or 14 Tips for First Time Moms. Congrats on your new bundle of joy, Katelyn!!
Chelsea Johnson is wife and mom of two. She loves writing about pregnancy and babies, and loves helping other moms any way she can. Her blog Life With My Littles is all about mommy tips, crafts, and family-friendly recipes. Follow her on Pinterest | Facebook | Instagram | and Twitter.