Looking for where to buy used Halloween costumes online? Below you'll find second-hand Halloween costumes available to purchase online as well as places to rent used costumes online for cheap. 
Halloween is such a fun holiday, especially because you and your kids get to dress up, go to parties, bob for apples, drink cider, and eat lots of candy.
But, spending a lot of money on Halloween costumes, especially for kids who won't wear them very long, and you have several kids to outfit in costumes, is not very appealing.
Shopping for Halloween costumes in department stores is frustrating because the selection is often very picked over, and very limited, and very expensive, which is why it is helpful to know the best places to buy Halloween costumes online, and how to get them cheap from various Halloween costume websites.
So, I decided to do some research and find out the best places to buy Halloween costumes online. I've even found out any shipping costs.
Because there are thousands of perfect costume ideas, I won't go into details about which retailers have this or that popular Halloween costumes, but I am including if their selection is varied or not, or if they have special offerings.
However, you probably know what you want to be for Halloween already, which is great! But, if you aren't sure, Use the Costume Selector to help you decide!
Many of these sites are going to offer the same popular costume but at different prices. This should help you be able to find good cheap Halloween costumes at the right prices.
I'm even sharing some great places to find used Halloween costumes (which is a great way to save!).
Places to Rent Used Halloween Costumes
HalloweenCostumes.com
They boast that they have the biggest selection of costumes in the world! HalloweenCostumes.com offers a huge selection of 4000 adults costumes and kid costumes (some exclusive to their site) plus great Halloween decorations.
But, the unique thing about them? They offer Rental Costumes! Most save you 50% on the retail price of the costumes, so if you don't mind to not own costumes, this is probably the best way to save and still get the perfect costume for Halloween.
You select the date of your event and how long you'll need the costume for and they offer free returns.
Rent Halloween Costumes online!
Taylor Maid Beauty Supply
They have hundreds of costumes from kids to adults as cheap as $20 to rent. There is a deposit charge ($100) to rent the costume, and some require you to actually call in to order the costume for rental (801) 377-0765. Tax is charged and there is a $9.00 flat shipping rate.
They have a wide variety of costumes and in different sizes. I would definitely recommend looking through and seeing what you can find! They also sell costumes and have various props, wigs, and contact lenses.
Shop Taylor Maid Rental Costumes here!
Fantasy Costumes
Based out of Chicago, they offer rental costumes, ranging in price from about $55-$250 for 3-day rentals, and offere free shipping on orders of $59 or more. Their rentals are usually of a more theatrical quality and therefore outside most buying budgets.
You can see their current selection of rental costumes online (mostly mascot-type costumes) but they have more than that listed on their website. Give them a call at 1-800-872-9447 to ask for current stock, pricing, and availability. They also have an online form to fill out if interested in a rental.
Costumes Galore
Costumes Galore has rental costumes for every occasion, from Christmas and Easter to Halloween. They are based in Mankato, MN and have thousands of costumes to choose from and will ship anywhere. They rent rate, one-of-a-kind costumes that you will not find on any other site, such as Dumb & Dumber, Waldo, Alf, and so on. You can rent costumes for up to 17 days, though 3 days is the standard. Prices range from about $30-$500.
Check out Costumes Galore rental costumes!
There are also professional costume departments and local theater supply stores you can explore near you for renting costumes, especially if you are looking for period pieces or uniforms or bulk orders.
Where to Buy Used Halloween Costumes Online
I'll start with where you can buy used Halloween costumes online followed by where you can buy cheap costumes online. Lastly, I'll list some popular online Halloween retailers in case you still can't find what you are looking for from those first two lists.
Happy shopping and happy Halloween!
Swap.com
If you don't mind your kids wearing gently used clothing, swap.com is a great site to pick up very affordable used Halloween costumes for kids! They have the best prices for costumes!
They currently only have a handful of Halloween costumes and accessories in stock, with some items as cheap as $5 or $6.
Type in "Costumes" in the search bar to see all the current listings or click the "costumes" tab under "Toys & More" in the menu bar.
Even if they don't have designated costumes, it can be a great place to pick up staples and accessories for making your own costume for Halloween.
There is free shipping on orders of $60 or more, and a $4.99 flat rate for orders less than $60. However, they can only ship to addresses in the contiguous 48 US States. Use my referral link and you'll get 40% off your first purchase from Swap.com.
Shop used Halloween Costumes on Swap.com!
Thredup
Another place to buy used Halloween costumes for kids, Thredup sports a few items in their Girls and Boys section. Pickings are slim and most prices are $8.99 and up.
Shipping is extra but is free for orders of $79 or more. They also charge a $1.99 restocking fee now on most items. BUT, it can be a great place to pick up some used clothing items that you will transform into a Halloween costume or that will serve as the basic color block underneath, for example.
Shop Halloween Costumes on Thredup!
Ebay
Bid. Shop. Browse. Find great deals! Ebay is possibly the best place to buy unique Halloween costumes online including many used Halloween costumes!
Buy Halloween Costumes on Ebay.
Cheap Costumes Online
There are some seriously cheap costumes online as well that they might as well be secondhand Halloween costumes because they are so low in cost.
Amazon
Of course, Amazon is a great place where you can find cheap Halloween costumes to buy. I mean, they're Amazon!
Amazon is great because they work hard to beat competitors' prices plus they offer Free 2-Day Shipping for Amazon Prime members!
If you aren't a Prime Member, you can do a 30-Day Free Trial of Amazon Prime! Even without Prime, many items ship free anyway.
Buy Cheap Halloween Costumes from Amazon!
LightInTheBox
LightInTheBox offers some really great and authentic-looking adult cosplay costumes as well as the regular assortment of Halloween Costumes.
The Cosplay costumes are pretty great and much more affordable through this website!
They offer Free Standard Shipping on orders $89+ for Cosplay and Costumes. Plus, they offer their own special rewards program, giving you cash back on most purchases.
Their costumes are marked down up to 70% retail prices all the time.
Buy Halloween costumes online from LightIntheBox.com
Zulily
Zulily is a great site for more unique Halloween costumes for kids at great prices! There are new and exciting listings happening every day, so you'll want to check in regularly to see if your kids' costume of choice pops up as one of their hot deals.
Remember that all of their listings are for limited times only. Keep in mind that some items can take up to 2 weeks or longer before they show up at your doorstep. Shipping is $5.95, but after your first order, all the other orders that day will have free shipping.
Buy Halloween Costumes online from Zulily.
Costumes4Less.com
More than just a Costume shop, Costumes4Less provides a wide selection of Costumes, Party supplies, Special Occasion shoes, sexy lingerie, and wedding supplies.
They have thousands of options for adults and children! Free shipping on purchases $50+.
For Halloween they have a fun Costume Finder to help you figure out what you will be for Halloween.
Find cheap Halloween costumes as Costumes4Less.com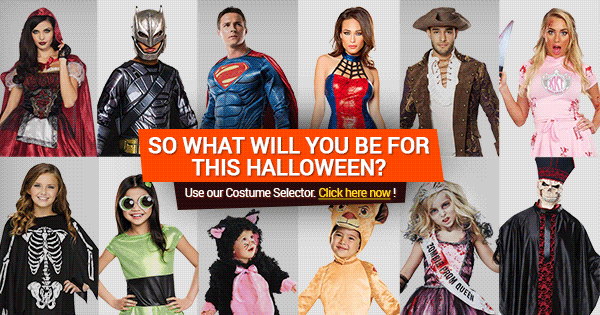 Target Costumes
A favorite department store for many people, Target Halloween costumes offers costumes for the whole family, as well as decor and candy.
The great thing is that Target allows you to stack a lot of savings.
If you are shopping in-store, make sure to check out their Target App to see if costumes are on a Circle offer or special coupon. They often run a 20% off costumes promotion!
Be sure to use your Target RedCard to save an additional 5% and get free shipping (if buying online).
Otherwise, you can get Free Shipping on purchases of $25+. And they may have special online coupons or mobile coupons for costumes too as Halloween nears.
Buy Halloween Costumes Online from Target!
Walmart
Obviously, Walmart has a large selection of cheap costumes online, and with their Free 2-Day Shipping offer, VERY helpful in getting you the costumes you need in time for your Halloween party or whatever you have going on!
Buy Halloween Costumes from Walmart!
JCPenney Costumes
New costumes are being added to JCPenney online and they have a great selection of up to 200 Halloween costumes for kids.
They offer free shipping to anywhere with purchases over $99 and offer Free Same-day pickup for 40 or more Halloween costumes too.
Buy Halloween Costumes Online from JCPenney
Kohls Costumes
A favorite retail store thanks to all of its cardholder perks and special discounts and promotions during the year, Kohls is also a great place to buy Halloween costumes online!
There are nearly 200 adult Halloween costumes and kids Halloween costumes.
Stack up some Kohls Cash and take advantage of some sales and promos and they could be a great place to pick out your newest costumes.
Buy Halloween Costumes Online from Kohls!
Etsy
If you want something truly unique and one-of-a-kind Etsy is a great place to get fantastic (and probably better made) Halloween costumes.
On Etsy, you will find unique selections that you won't be able to find anywhere else because most of them are handmade!
They may not be all that inexpensive though, but they'll look awesome, especially because you can find a large assortment of cosplay Halloween costumes.
Buy Halloween costumes on Etsy.
Where do you buy Halloween Costumes online each year? Do you have a favorite place to shop?
---
Check out these great Halloween posts too: