From KidBox clothing to Kidpix clothes, here are the 10 best kids clothes subscription box options for your babies, girls, boys, and even tweens. Easily compare Kidbox to Stitch Fix Kid prices and figure out which one will best suit your kiddos!
When it comes to a subscription service that is perfect for busy parents, this is a great way to get new clothes without paying retail prices. The best part is that the whole box is delivered right to your door! It's a great option with a nice selection of clothing, that all you have to do is pay a monthly fee to have the best subscription boxes delivered to your house.
When my first daughter was really little, I would try to keep her in a baby clothing size as long as possible. She would wear each onesie and dress and pair of pants until the buttons could barely snap together. My mom would see my daughter in an outfit that was obviously too small for her and exclaim,
"Move her up a size already! She can barely walk in that thing!"
But you know how it is! If you admit they need to go up a size, you're admitting they're growing, which means they're not a baby anymore, which means in a few years they'll go to school, and then college, and then get married, and then . . . and then . . . they won't need you anymore like they need you now.
Luckily it didn't take me very long before I realized my rationale for keeping her in a too-small clothing size was just ridiculous! Kids grow out of their clothes left and right! That's just part of life!
Just recently I moved my 3-year-old daughter up to size 5T. Her size 4T stuff still mostly fit, but the pants were starting to inch up and the T-shirts were getting a little too tight and short.
Not a week later I changed out all of my almost-2 year-old son's clothes from size 2T to 3T. My daughter who is 5 and just finished kindergarten is currently in size 6X, and I'm told by my friends that she'll probably stay in that size for awhile, so that's somewhat of a relief.
Even though kids grow fast, my husband's income remains the same, so I've been exploring kids' clothing subscription boxes! I can't take the kids shopping for clothes at the store every week, (you know how fun that is), so I wanted to compile a list of some of the best kids' clothing boxes out there that save you time, money, and also look great on your kid.
Here's what I found!
Kids Clothes Subscription Boxes
The best kids clothing boxes, which I will share more details about below are:
We were also going to do the Old Navy Super Box, but they are no longer up and running as of August 23, 2018, so we currently only have 9 on our list.
Kidbox
Kidbox is a kids' clothes subscription box which brings parents and kids together to discover new styles, save time in their busy lives, and bond over the joys of community giving.
Every season, the Kidbox team prepares a box full of stylish pieces from well-loved brands, selected for each customer's child. They are recommended for kids ages 0-16 as they carry sizes from newborn to size 14!
Boxes come 5 times a year. Skip as you please. 6-7 name brand items or 5-6 items (for baby by KIDBOX). For every box purchased, KIDBOX donates clothes to a child through a charity of your choice! Plus, the clothes look super nice and actually seem affordable.
Kidbox boxes cost:
$98 ($12-$16 per item) for full-box discount
$68 ($12-$13 per item) for Baby by KIDBOX
You only pay for the items you keep though and they offer free shipping and free returns. You can also take 10% off your first order with code TRY10.
Plus, for every full box purchased, KIDBOX donates clothes to a child through a charity of your choice! Kidbox clothes are super nice and actually affordable! You can check out Katelyn's Kidbox Review for her 8-year-old daughter and her Baby by Kidbox review for her baby if you don't believe me!
Don't forget to use code TRY10 to get 10% off when you check out Kidbox!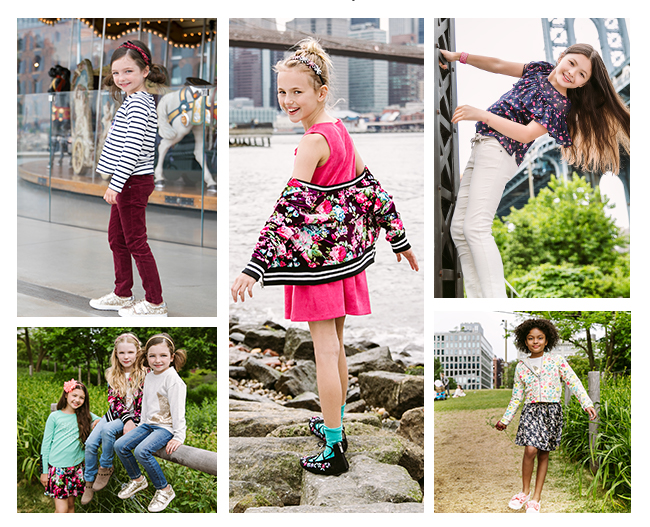 Kidpik
Kidpik is a seasonal clothing subscription for boys and girls ages 3-14 years old. All designs are unique to Kidpik, and you get 7 fashion choices of clothes, shoes, and accessories for mix and match outfits based on what you selected for your girl, plus a free surprise gift in every box.
When you sign up for kidpik, there are a lot of preferences that they ask you for regarding style, size, colors, patterns, etc.
A new box comes when you choose to receive one: 1 box every 4 months, 2 boxes per season (8 per year), or a box every month. You can pause, cancel, or change at any time.
The Cost is $0.00 and up (Your box is sent to you free including styling, shipping, and returns!). You get to keep and pay for what you like and mail back any unworn items you don't want within 7 days. The average cost per box is $89 or $12 per item including the 30% discount if you keep the entire box.
Shipping is FREE and there are FREE returns on everything. They don't ship to Alaska or Hawaii.
See my Kidpik review for more details and what I and my 8-year-old daughter thought of their clothes.
Bonus: You can choose to donate unworn merchandise in the free return envelope they give you with an enclosed donation sticker. Your donation goes toward GOOD+ Foundation™ who partners with a national network of leading programs to break the cycle of family poverty through the power of donated goods and services.
Order your daughter Kidpik clothes!
FabKids
FabKids is a kids' clothing subscription box that lets you pick out an outfit for your child that is 40% off what you would pay in store. All the clothes are really cute and made in San Francisco, CA.
They offer sizes for boys and girls from ages 2-16 and you pay a $29.95 membership fee which goes towards any purchase you make. That fee does not include shipping.
Boxes come every month, but you can also skip a month if you want to.
As the mom, you get to pick out the outfit you want your kids to have. There are no surprises. According to several reviews, FabKids also saves you a lot of money without sacrificing quality. Reviewers say that the clothing tends to run on the more "slender" side of the spectrum, at least for the boys' clothing boxes.
We all want to save money on kids' clothing, right? With the way my kids grow out of clothes, $30 is a reasonable price to pay for a cute new outfit every month. They also have FREE returns and exchanges!
New VIP Member Exclusive: Get 2 Pairs of Shoes for $9.95! So sign up today!
Stitch Fix Kids
Stitch Fix Kids is Stitch Fix's newest clothing service that provides unique, stylish, and affordable kids clothing in sizes 2T through size 14 (so typically kids aged 2-12) across a diverse range of styles to help kids feel confident in who they are.
Each Stitch Fix for Kids includes 8-12 items (which is different than their standard 5 items) personalized to each kid's sense of style and interests, and curated to deliver head-to-toe looks.
You are charged a $20 styling fee for each box which will be applied toward any items you keep. Each of the 8-12 items ranges in price from $10-35, but you only pay for the items you keep. If you keep all of the items in a single box you receive a 25% discount! Shipping, returns, and exchanges are always free!
Stitch Fix Kids brands include Kate Spade, Under Armor, Nike, TOMS, Hanna Andersson, Hurley, Sovereign Code and more, as well as Stitch Fix Kids exclusive brand, Rumi + Ryder.
Check out Katelyn's Stitch Fix Kids reviews for her 8-year-old twin girls, her 5-year-old son, and her 3-year-old daughter!
Request your first Stitch Fix Kids box!
Rockets of Awesome
With Rockets of Awesome, your kid will get 8 clothing and accessory items four times a year, that are selected based on the Style File quiz you take when you sign up. You also get an email with a link 48-hours before the box ships to preview what's in the box.
They serve kids that wear sizes 3-12 and all the clothes are created by the company.
Each box charges a $20 styling fee, which is then credited toward the items you choose to keep.
Each box of 8 items is $150 total if you keep everything. Otherwise, you can send back the items you don't want and you'll only be charged for what you kept at the per item price.
Most clothing items are around $25, and the price range is $16-$50. That means certain jewelry and accessories are priced at around $16, while more unique items (like outerwear) are at $46/$50. With the Keep All for $150 deal, the average savings on an 8 item box are around 25% off!
Shipping is always FREE both ways.
Reviewers do say that the clothing runs a little large, so be aware of that if your kid is on the smaller side.
Request your Rockets of Awesome box of kids clothes!
Girl Clothing Subscription Box
Girl-A-Tude
Girl-A-Tude sends your little girl a cute T-shirt and gift every month. The box can even be personalized with your daughter's name. Your girl will also get a free T-shirt once your subscription is active for 3 months.
Each month your girl will receive a "girl power" t-shirt, a fun gift, and a personalized note from "G-Girl" discussing the empowerment theme of the month.
I think it's so important to build up self-esteem in young girls early and often. In school, my daughter was given the "Class Cheerleader" award for always saying things to her classmates like, "You can do it!", "You got this!", "You're a rockstar!". I like to think all the positive praise I heap on my kids at home had a little something to do with that. Praising kids is so important, and as girls get older they really need praise at home when they can feel beat down and unimportant at school.
The focus at Girl-a-Tude is for girls to celebrate themselves, their differences and their abilities, not only their looks. Their emphasis is on making girls happy and confident with their positive messages. I've looked at some of their T-shirt designs in their shop, and the prints and styles are super girly and fun. I could totally see my 6-year-old daughter wearing their shirts and loving them.
You can order a box for "Toddler with Tude" ages 2-5, or "Girls with Attitude" ages 6-13.
Cost of this girls clothing subscription box:
Month-to-month: $19.99/month
3 month prepay: $56.97 or $18.99/month
6 month prepay: $107.94 or $17.99/month
12 month prepay: $203.89 or $16.99/month
Shipping is included in the box price for US customers.
Boxes come every month! Subscription automatically renews.
Kids are cute, and their clothes should be, too! I hope my list of kids' clothing subscriptions helps you find adorable, quality clothes for your child that won't break the bank.
What are the perks of subscription boxes?
You get to let the kids try on the clothes in the comfort of your own home! This is an easy way not to have to battle with dressing rooms and to make a fun way at home to try on a new shirt and pants. You'll love having some of your favorite brands delivered right to your house! Every single piece is delivered to give your child great style and a good fit. You'll be in love from the first box.