Looking for a baby subscription box? Then you'll like this post! You'll find a baby clothes subscription box, baby toy boxes, baby book subscription, and other subscription boxes for babies.
From food to clothes to toys and personal care products, you can hopefully find the best monthly subscription box for your baby. They also make excellent gifts!
These are also great for new moms and busy parents to have educational toys ad new toys delivered right to their front door. They're high quality, and great for brain development, and the list below includes some of the best baby subscription boxes, ever.
Best Subscription Boxes for Babies Under 3
Who doesn't love getting stuff in the mail? Other than ads, and bills, and all that other "adult" stuff. I have 3 siblings living in Utah right now, and my kids love it when their Aunties send them pictures, cards or letters.
Even though a lot of us primarily use email to communicate with friends and relatives, it's nice to get that unexpected package every once in a while!
Right before my husband and I left for Hawaii, his Aunt Janet sent us two surprise packages from Amazon filled with sunscreen and a long sleeve swim shirt for my husband (since he's a redhead, this is pretty much a necessity).
It was so thoughtful of her to take the time to send that package to us and we were super excited to open it!
Now, you might be thinking, "I don't have friends and relatives who live far away and like to send me or my kids' packages!" Well, guess what?
You can sign up for monthly subscription boxes for you, your kids, and pretty much anyone else in your life!
Today we're going to focus on the top 11 best subscription boxes for babies, or those children ages 0-3. Some have offerings for older kids or are even mom and baby subscription boxes.
I will share all the details about the boxes, what makes these baby boxes unique and what I like about them and any promo codes I could find to make them even more affordable. Enjoy!
Subscription Boxes for Babies
1. Panda Crate from Kiwi Co
Panda Crate delivers information, inspiration, and products that support your child's healthy development and lifelong learning.
Kiwi Co has designed their Panda Crate to be grounded in the science of early childhood but made helpful, practical, and convenient. They work with experts at Seattle Children's Hospital to bring you research-backed techniques to support your child's healthy development.
They believe that children are naturally curious and learn by playing, exploring, and most importantly through interactions with significant adults in their lives.
Recommended for: Children ages 0-24 months.
Kiwi Co also has other lines of crates for kids from ages 3-16+ if you want to check them out.
How often boxes come: Every other month and they automatically renew every month, though you can cancel at any time.
Costs of the boxes: Most of the subscription services I'll be talking about have the option of a month-by-month pay as you go plan, or an option to pay for a longer service for a discounted price.
Here's the breakdown for Panda Crate:
Monthly: $19.95/month
3 months: $19.95/month
6 months: $18.50/month
12 months: $16.95/month
You can see that if you buy the longer subscription for a full year, you end up saving almost $100 instead of doing month-to-month. Plus, there is free shipping within the U.S.!
If you buy the Newborn Pack, it's three boxes of goodies for just $29.95! You can see Katelyn's Cricket Crate Newborn Pack review and newer Panda Crate review for more information about it contains (it's pretty awesome).
You can also gift the boxes to others.
What you can expect to receive in a box
Each box comes with projects that are appropriate for your child's specific age. You'll get everything you need to complete a project, such as writing utensils, card stock, etc. You'll also get ideas from the company on how to continue using some of the items included as your kid grows up. In each box, there is also a copy of "Wonder" magazine, and a list of online resources with links to other projects your child might enjoy.
What makes them unique: It's hard to copy a craft you see on Pinterest with your child if you don't have the right tools to go along with it. Since everything's in the box, you don't have to worry about rushing to the store to grab extra glue or markers to complete the project.
What I like about Panda Crate: It's super affordable! If you really enjoy crafting/doing projects with your kids, you're going to be investing about $20 a month anyway to get the appropriate tools and supplies. This way you don't have to pack all the kids in the car and drive to the store to do a fun project together. It's also super convenient! I'm not a big crafter, so I like that I don't have to come up with my own projects by scanning the Internet or typing out a whole bunch of instructions.
Benefits of their boxes: You're doing projects with your kids that are educational as well as fun, and it's easy to do together. Kids enjoy it when you spend time with them, and you get the benefit of helping their creative juices flow. If you sign up for their newsletter, you also get 30% off!
Learn more here.
2. Bookroo
Bookroo is a monthly subscription box for babies that helps them fall in love with reading by combining the excitement of opening a gift with the discovery of a new, treasured book! Bookroo delivers curated, individually wrapped baby books right to your door each month. Books are curated by a Bookroo Review Process which includes input from young families attending Stanford University.
Recommended for: Ages 0-3 (for board books), 3-6 (for picture books), and 7-10 (for chapter books).
How often boxes come: Every month or every other month, you get to choose. Your subscription will automatically renew unless you decide to cancel. You can cancel whenever you want.
Costs of the boxes: Shipping is $5 flat. Just like other subscription services, you can pay monthly or prepay for a few months and get a slightly discounted rate.
Here are your options:
Monthly: $19.95/month + $5 shipping = $24.95 per month
3 months: $18.95/month + $5 shipping = $23.95 per month or $71.85 upfront
6 months: $17.95/month + $5 shipping = $22.95 per month or $137.70 upfront
12 months: $16.95/month + $5 shipping = $21.95 per month or $263.40 upfront
If you choose the every other month subscription:
Monthly: $20.95/month + $5 shipping = $25.95 per month
3 months: $19.95/month + $5 shipping = $24.95 per month or $74.85 upfront
6 months: $18.95/month + $5 shipping = $23.95 per month or $143.70 upfront
You do pay less if you buy a longer subscription! And they totally allow for you to gift these to other people!
Take 15% off your order with code BOOKS2LOVE!
What you can expect to receive in a box: For kids ages 0-3, you'll get 3 new board books in every box. If you have a kid between the ages of 2-6, you can choose "Picture Books"' instead and get 2 hardcover books per box. You can see an example of the picture books in Katelyn's post about teaching her homeschooled twins how to read.
What makes them unique: Books are reviewed by families and their kids. The parents that review the books have at least one spouse attending Stanford University. Books are sent out to the families and then rated on how "readable" or engaging they are. Bookroo tries to send books to you that are not easily found online or in stores. They also come individually wrapped in beautiful paper packaging for a fun touch!
What I Like About Bookroo: I like that they try to showcase different authors and books that may not be as popular. It's fun to discover a book with your kids that are different than the ones you read a million times when you were growing up.
My parents took me to the library a lot, and after seeing the same books over and over again, it's nice to have some variety!
If you are a new parent and don't have a lot of board books or picture books on your shelves, this is a great way to start building your at-home library.
Benefits of their boxes: Almost all kids ages 0-3 enjoy books and love to read! A program like Bookroo builds a love of reading among young kids.
Here's an answer to an FAQ on their site that I found very helpful:
"What if I have children in both the board book and picture book age groups?
If you haven't signed up yet, as you checkout, simply choose our alternating subscription when you arrive at the "Choose Book Type" step, and we'll alternate between sending you board and picture books every other month. (You can also choose which box you get first!) If you want books for both age groups every month, we offer a 15% discount off the second subscription shipping to the same address for as long as both subscriptions are active. If you're already subscribed and would like to update your subscription to alternate, just let us know and we'd be happy to alternate which box we send you so that you can acquire books for both age groups."
I love that because I would love books for all of my children!
You can learn more here. Be sure to use promo code BOOKS2LOVE to save 15% off your order!
3. Ecocentric Mom
Ecocentric Mom boxes are monthly care packages to support well-being in motherhood. Every item in the box is free of chemicals and toxins, made by the very best small brands, and matched exactly to your stage of pregnancy or the age of your child. These boxes are designed for moms or moms-to-be with an interest in being green, living more sustainably and going toxin-free in all aspects of life – especially when it comes to your family.
If you love discovering unique brands and products, value small-batch, organic and handmade products, have been known to scour Etsy, and to #shopsmall in order to find something really special for yourself, or for a gift, this is subscription box for babies is likely right up your alley.
See my Ecocentric Mom Review!!
Recommended for: For pregnant moms and their babies! Goes up to preschool-aged children.
How often boxes come: Monthly, but you can also "skip a shipment" if you want. You can also buy a gift box for someone for $49.99 if you don't want a subscription.
Costs of the boxes: $32.99 per box. Ecocentric Mom ships to the US and Canada. Shipping is free to US destinations and is $7.00/box for Canadian destinations.
You pay less if you prepay for your subscription. You can choose the subscription length!
Month-to-month: $32.99
2 boxes: $65.98 or $32.99/box
3 boxes: $94.02 or $31.34/box
4 boxes: $118.76 or $29.69/box
6 boxes: 166.26 or $27.71/box
9 boxes: $243.45 or $27.05/box
12 boxes: $316.68 or $26.39/box
You can take $5 off any $5+ shop purchase with coupon code SAVE5 and take $5 off your order for the Ecocentric Mom Subscription with code WELCOME5.
What you can expect to receive in a box: Something for you as a mom like lotion, makeup, or other self-care products, an eco-friendly product or two for bump/baby, a "green home care item" for your house, and a snack made without GMOs for you and baby. It's a mix of healthy stuff!
What makes them unique: The main focus of Ecocentric Mom is on products that are good for the environment and eco-friendly.
What I think about Ecocentric Mom: I don't usually buy eco-friendly, organic items. I really want to, but they're usually out of my price range. So, I feel like $32.99 is a little pricey for what you get, but then again most organic products are! I am not quite their target audience, but you might be!
Benefits of their boxes: How often do we as moms really pamper ourselves? Answer: Never! This is a great way to discover new eco-friendly products that you didn't know about before and you get to Treat. Yo. Self.
Learn more HERE. Don't forget to take $5 off your order for the Ecocentric Mom Subscription with code WELCOME5.
4. My First Reading Club
My First Reading Club was founded on a passion for reading and improving literacy. They send your child the best children's books by age. These are books for kids to read, and for parents to read with and to their children. Their curator pours through thousands of titles and picks three age-appropriate new books specifically for you and your child each month. They also include activity books for younger members.
Recommended for: Kids ages 0-2 (Just Starting out) all the way up to 12, you tell the age, they pick the books.
How often boxes come: Shipped to you the first week of the month and automatically renews.
Costs of the boxes:
Shipping is $7 in the U.S., and $12 for Canada.
Month-to-month: $9.99/month
3 months: $29.00/month or $9.66/month
6 months: $57.00/month or $9.50/month
12 months: $113.00/month or $9.42/month
Once again, you save a little by prepaying for a longer subscription!
What you can expect to receive in a box: A surprise gift for you (Mom), 3 hardcover books or board books for younger kids, and an extra activity and coloring book for the youngest age groups.
What makes them unique: You might be thinking, "Isn't this really similar to other kids' book subscriptions?" Well, the cool think about My First Reading Club is that every time you enter the code HELP147 at checkout, at no extra cost or charge to you, your monthly subscription will provide a struggling/orphan child with 3 meals each month. So you're helping other kids as well as your own!
What I like about My First Reading Club: It's not as expensive as some of the other options out there, including Bookroo mentioned above, and I like that they include coloring books too! My kids love to color and are constantly filling up their coloring and activity books from front to back.
Benefits of their boxes: Kids can get excited about receiving something in the mail, it builds a love of reading, and you don't have to leave your house to get new books for your kids!
Learn more HERE.
5. Hoppi Box
Hoppi Box ships you boxes of high-quality toys tailored to your baby's age and developmental milestones every quarter. Baby experts help curate your customized box of toys that support the development of fine motor, cognitive, and social skills for each stage.
Recommended for: Kids ages 0-3 years.
How often boxes come: Quarterly: March, June, September, December.
Costs of the boxes: Shipping is FREE, Quarterly you pay $75, if you want to prepay for the whole year, you only pay $66 a quarter (saving you $36).
What you can expect to receive in a box: 3 to 5 toys and books in each box, catered to your child's developmental stages and milestones.
What makes them unique: With each subscription, they donate a toy to a baby in need.
What I like about Hoppi Box: You know when you have to swing by Target to pick up just a few items, and then suddenly you find yourself in the toy section with where one kid is kicking and screaming at the top of their lungs and the other is crying like you are torturing them? Y'all know what I'm talking about!
Instead of taking the kids out on errands with you and buying them a toy as a last minute "will-you-just-be-quiet" resort, you can get them in the mail and avoid the whole thing altogether! I also like that they try to pick out toys that fit each stage/milestone your kid is going through to help them learn and grow.
As a first time parent, you feel a lot of pressure to buy the "right toys" for your kids at the right stages, and sometimes you miss the mark. Kids will love it and it's super convenient!
Benefits of their boxes: Hoppi Box has an experienced team of people on their staff who come from child development backgrounds. Some have also worked at Montessori schools. Plus, with each subscription, they donate a toy to a baby in need through their charity partners. It takes the guesswork out of what toys to buy your kids.
Get a Hoppi Box for your baby!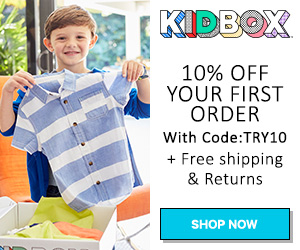 6. KidBox
Kidbox creates a unique and fun shopping experience that brings parents and kids together to discover new styles, save time in their busy lives, and bond over the joys of community giving. Every season, the Kidbox team prepares a box full of stylish pieces from well-loved brands, selected just for each customer's special child. They are a baby clothes subscription box.
Recommended for: 0-16. They carry sizes from newborn to size 14!
Cost of the boxes:
You only pay for the items you keep though and they offer free shipping and free returns. You can also take 10% off your first order with code TRY10.
How often boxes come: 5 times a year. Skip as you please.
What you can expect to receive in a box: 6-7 name brand items or 5-6 items (for baby by KIDBOX).
What I like about KidBox: For every box purchased, KIDBOX donates clothes to a child through a charity of your choice! Plus, the clothes look super nice and actually seem affordable.
Benefits of their boxes: I like that I don't have to keep everything if I really don't like it or it doesn't fit. Plus, I figure it's a good way to get cute baby clothes without actually go into stores with my baby! Nothing like the clothes coming to you. I could see this being really great for first-time parents.
Don't forget to use code TRY10 to get 10% off what you do keep!
7. Bluum
Bluum delivers monthly boxes containing five full-size, top-rated products curated just for you and your little one (from pregnancy to pre-k). It's like having your own personal shopper deliver products you'll adore, right to your front door!
Recommended for: Your first month of pregnancy all the way until your baby is in preschool (up to 5 years old).
How often boxes come: Recurring monthly. You can pause your Bluum subscription in your account dashboard for one, two or three months at a time. When your pause period runs out, your membership will automatically reactivate and you will continue to receive boxes.
Costs of the subscription boxes:
Monthly plan – $34/month
6-month plan – $186 or $31/month
12-month plan – $348 or $29/month
Shipping is free to everyone who lives in the Continental U.S. It's $5 a month for those who live in Alaska or Hawaii.
Every box is valued at $45 or more so it's a great deal even paying more for the month-to-month plan!
Their Spring sale is going on right now too, and you can get a free box included with your subscription. You'll get an even lower price on the boxes if you sign up for the longer plans during the sale.
What you can expect to receive in a box: You'll get 4 or more full-sized products each month such as: books, age-appropriate toys, apparel accessories, and home and body care items.
What makes them unique: Bluum has a team of expert M.O.M.'s (managers of merchandising) who spend their days trying new products, meeting and getting to know brands. It's their mission to evaluate whether a brand is a good fit to join the lineup of bluum's products. Doing that, the team applies hard criteria to make sure they only send responsibly sourced, free of dangerous chemicals and in most cases organically manufactured products that are healthy for baby and mom. Bluum currently works with more than 350 brands and over 1,000 different products.
What I like about Bluum: I like that it combines the books, the baby gear, and the toys. This is all stuff you're probably going to buy anyway, so why not have it delivered to your front door? I'm not a huge fan of the element of surprise when it comes to what I buy for my kids, so in my opinion, I would rather know exactly what I'm getting and there are no returns here.
Benefits of their boxes: It takes the hassle out of going to the store for certain products and it's fun to get something new for your kid each month.
Learn more HERE
8. YUMI
Yumi is baby food reimagined. You can experience more than 60 flavors of their organic, fresh and nutritionist-approved meals. The food goes from farm to your doorstep in just days. With Yumi, you'll get exclusive content in your box every week, tailored to your little one's milestones. There's no guesswork, our content is mapped against thousands of clinical studies and reviewed by nutritionists.
Recommended for: Ages 5-12 months. When babies first start eating solid food, when they can eat table food.
How often boxes come: Meals are shipped weekly, and automatically renew.
Costs of the boxes: Depends on what you get. You can choose from 6-12 jars in a delivery. Prices shown just for 6 jar delivery. All shipping is FREE.
Baby Food STARTERS
$4.67 per meal
$35 weekly total
Great for babes just getting a taste for solids. Choose from 6, 10 or 12 jars. Each jar is 4.5 oz.
Baby Food STARTERS AND BLENDS
$6.00 per meal
$45 weekly total
Taste the rainbow, with a mix of starters and blends. Choose from 6, 10 or 12 jars. Each jar is 4.5 oz.
Baby Food BLENDS
$6.67 per meal
$50 weekly total
Our signature, multi-ingredient blends are designed to deliver maximum nutrition and taste. Choose from 6, 10 or 12 jars. Each jar is 4.5 oz.
You can ask to be charged once a week or once a month. You get a discount for signing up for a monthly plan. You can skip or cancel at any time.
What you can expect to receive in a box: Baby food! It's a baby food delivery program. They pride themselves on their "nutritionally dense baby meals made with fresh, organic ingredients and high-quality superfoods." It also comes with ice packs to ensure freshness and comes in recyclable and compostable packaging.
What makes them unique: They are very eco-friendly, and all of their food comes from organic farms. All of their unused perishable food gets donated to Impact LA, a local non-profit that helps feed those in need. The boxes, trays, and jars are all curbside recyclable, the insulation used in the packaging is compostable and the ice packs are reusable.
What I like about YUMI: This company definitely caters to the busy mom who doesn't have the time to make her own baby food, but wants her baby to eat very healthy. This company is super eco-friendly and cuts out a lot of unnecessary additives and ingredients that you might find in baby food from a store shelf. It is really expensive when you compare it to making your own baby food, but if you don't have the time, then it might be worth it.
Benefits of their boxes: All of the meals are chosen by nutritionists. The baby food is organic, gluten-free, vegetarian, vegan, dairy free, peanut free, fresh. This is really great for kids who have a lot of food allergies or who are sensitive to certain foods.
Try Yumi here.
9. Noobie Box: A Year of Wonders Gift Boxes
Noobie Box is more known for its free pregnancy box (see my free Noobie Box review for more info on those!) but they also have boxes for a baby's first year (as well as a Noobie Parents Box and Noobie Nursing Box).
But, let's talk about the Noobie Boxes just for babies!
There are four baby boxes that make up the "A Year of Wonders" subscription box series from Noobie Box. The first milestone box is Noobie Nest (0+ months), followed by Noobie Play (3+ months), Noobie Eat (6+ months), and Noobie One (9+ months).
Each box contains five full size products and awesome promo codes for those companies, should you want more products from those brands.
All boxes can be purchased individually or as the whole series.
Individual boxes are $38.95 and the whole series is $129.95 (or $32.49/box) all with free shipping. Use code NOOBIEFAGAN for 20% off all their gift boxes!
We've received the whole year of boxes before and were pretty happy with the items we received! We are receiving them again with our new twin babies as well! See my Noobie Nest Box review and my Noobie Play Box review!
10. Walmart Baby Boxes
You might not know it, but Walmart USED to have three different types of FREE Walmart baby boxes categorized into three different stages:
Walmart Prenatal Box
Walmart Infant/Newborn Box
Walmart Toddler Box
However, now they only offer you a free box as part of your Walmart Baby Registry. Once you have created a free Walmart Baby Registry, you can go to this landing page to claim your free registry gift which includes some free sample products.
I got a free box with my twin pregnancy. You can see what they sent me in my TikTok video.
Learn more about Walmart Baby Boxes!
You can also learn more about free registry gift boxes here.
11. 123 Baby Box
123 Baby Box is a subscription box service for babies aged 0-3 years.
123 Baby Box delivers monthly boxes filled with baby products ranging from toys and bibs to fun goodies for mom. They are based in Southern California and offer a wide variety of product in their subscription boxes each have a retail value of $75+!
They sent me a box and I am pretty impressed with the items I received (see image above and read my full 123 Baby Box review) and actually liked them all and will use them all! That's a big deal in the subscription box world! Plus, the items in my box retailed for over $100!
You can do a monthly subscription for $56.99/month, a 6-month subscription for $45.99/month, or an annual subscription for $39.99/month (30% off). Every box ships for free in the USA.
Use code FAGAN15 to get 15% off any subscription!!
I think these boxes would be great for new parents and would be an awesome gift, especially with the high value of the items you are sent!

What items are included in the monthly packages?
This all just depends on the age group of your child. There are fun activities, great toys for Montessori education, and play essentials that vary between different subscription boxes.
Is each monthly book subscription box different?
Yes, each subscription service sends out the best products every month in different offerings and different designs. There are so many different options that make this an easy way to have new toys and ideas!
Be sure to check out these great posts too!