Men don't want stuff, they want practical gifts for him! I've put together a great list of practical Valentine gifts for him (or for birthday or anniversary or Christmas) that still have a personalized touch.
If you're looking for the perfect gift, you're sure to find it here! These are great tech gifts, exciting gifts, and are the perfect thoughtful gifts as well. Forget about giving a gift card this year – and check out this holiday gift list. (These would also make a great birthday gift, too!) 
I am not known for being a sentimental person, because by and large, I'm not.
It's why I don't always love handmade gifts from my children, or sweet gifts of affection from my husband (like flowers or chocolates).
I know, I'm the worst!
But, the truth is I'm so ridiculously practical that all I see is the waste of these often fleeting, dying, or poorly constructed gifts and the clutter that results from keeping every item ever given to me by my five children.
It's also why my favorite gifts to give others are practical gifts as opposed to "pretty" things or things like food. I want them to use it and love and keep on using it and loving it for a long time.
Because wouldn't it be great if a $20 practical gift was actually used? If it was actually worth the cost? If it would bring the recipient joy as it fulfilled a need or a want they had?
What one considers practical gifts for him will vary on the man you intend to gift to.
He may have zero need for some of the items on the following list of practical gifts for him because he doesn't cook, or hunt, or fish, or isn't handy.
A gift is only practical if the person you intend to give it to wants or needs it!
But, because it's meeting a need or a want, I feel like many could double as romantic gift ideas for him (aka as practical anniversary gifts for him) or as smart practical gifts for dad!
I do also have a great post full of Adventure Gifts for men too!
If you have a guy that likes outdoor adventures, you're sure to find an excellent gift on this list. The gift recipient will be so happy to receive any of these great gifts. They're at affordable prices, too! (don't forget to add some dark chocolate and their favorite drink for a fun addition to any gift!) 
It's impossible for me to know what type of practical gifts for men are applicable to each and every man you may be shopping for, so I put together the following list of practical gift ideas in categories, and have by and large skipped over decor-type items.
Practical Gifts for Him
Some of the following items are both practical and personalized gifts as they can all be found on PersonalizationMall.com who is sponsoring this post.
I love that they sell high-quality products with a more DIY and heartfelt (aka sentimental) touch due to the personalization aspect, and yet they are still so very affordable at many are $30 or less!
Kitchen Practical Gifts for Men
As part of my partnership with PersonalizationMall.com they sent me two practical gifts for my husband!
My husband is the chef in the home, cooking dinner almost every night, and we're not talking about just throwing in some frozen dinners!
My husband makes homemade sauces, breads, and chilis. He likes to watch cooking shows in his spare time and experiment with new dishes, like cooking a pork wellington (cause it's way cheaper than a beef wellington) and inventing his own recipes.
He's awesome in the kitchen!
One of our regular dinner traditions is pizza on Friday nights. My husband will make homemade pizza dough, homemade red sauces, and homemade white sauces, and then create different flavor combinations with the toppings too.
It's delicious and we all look forward to it!
Our wooden pizza peel recently bit the dust and I thought it would be fun to gift him a personalized wooden pizza peel.
The personalized pizza peel comes in a cute authentic pizza box along with a pizza crisper pan and a giant pizza rocker something we definitely didn't have but love!
See how excited he is?! ??
You can get it personalized with whatever saying you'd like and even in different font styles. Right now it's 25% off too!
If you don't really do pizza, but want practical kitchen gifts for him, check out these other awesome items:
Practical Gifts for a Handyman
If you are shopping for a handy man, gifting him some handy man tools and accessories can be super fun and practical! I like the looks of the following personalized practical gifts for him:
If your handyman works all over the house and doesn't want to lug the heavy, giant toolbox all over with him, but hates running back and forth looking for what he needs, you could gift him this sturdy Carhartt utility tool tote and get it embroidered with his name (or whatever).
If he needs a new hammer, or a better one, personalize this wood one.
Or, upgrade the hammer with this small multi-tool personalized hammer which has a hammer, pliers, 2.5″ blade, 2.5″ saw blade with a file, flat head screwdriver, Philips head screwdriver, bottle opener, reamer, and wire cutters. It's perfect for a toolbox, car, outdoors, or home.
This thing is a pocket knife, corkscrew, bottle opener, LED flashlight in one, all on a key chain ring. It's handy for the car, toolbox, outdoors or home.
Practical Sports Gifts for Him
Gifts for outdoorsy guys are often practical by nature and the following are great for the outdoorsman or the sports player or sports fan.
I was also sent a personalized sports water bottle! Whether you're watching sports in the stands or playing the games yourself, it's important to stay hydrated!
These water bottles from Personalization Mall are fun and with our name on them, hopefully won't get lost somewhere or mixed up with others.
It has a flip-top lid, is small, lightweight, and made from durable stainless steel, holding 20oz of water.
If your practical guy is also a sports fan and loves attending games in real life, he might love something like this embroidered padded stadium seat!
This one might be a little too pretty to actually use, but I love this personalized Rawlings baseball bat as a practical gift for men who love baseball.
To go along with a baseball bat he might already have is this pretty oak baseball bat stand that can hang vertically or horizontally.
If he is into hockey, you can gift him something practical and personalized with this Official Hockey puck.
One practical gift for him idea is this personalized loving hearts golf ball set! Really cute for Valentine's Day or an anniversary.
Personalized fishing lure kit that includes a spoon lure, jump ring, and treble hook makes a practical gift for men who like to fish, as does the following idea:
If your husband hates lugging the cooler and his chair and other fishing gear, he might love this Sit 'n Fish personalized cooler and chair! It would be a great practical anniversary gift for him.
If your man likes gifts for gun-lovers, then they'll love this authentic personalized ammo box!
Nike Embroidered Duffel Bag is perfect for taking to the gym, a coaching job, or on a short trip.
If your man is into outdoorsy gifts for him, he may enjoy this cool Survivor Personalized Lock-Back Knife. It has a built-in seat belt cutter and emergency window escape tool on the end. It's a durable 3″ lock-back serrated blade with quality craftsmanship.
If your guy is a cyclist, check out my gifts for cycling post, or check out my other post if you'd really rather gift adventure gifts for him.
Practical Clothing Gifts for Him
Some men really like clothes, sometimes even fancy clothes.
You could think about gifting them styling services for men that work as subscription boxes for men, or some of the following practical gift ideas (which are all better than a generic package of brand new socks or undies as, really, they shouldn't qualify as "gifts").
Again, think about what he has and what he will actually use and need.
My husband wears dress shirts to church on Sundays, so I love the idea of these secret message personalized collar stays. They are the nicer and sturdier metal collar stays and you can leave sweet little love notes on them, making them a super cute practical Valentine's Day gift for him.
If your husband wears shirts that actually require cufflinks, think about getting him some engraved cufflinks or a cufflinks box if he has several already and needs a better way to store them.
If he's a bath robe kinda guy, and wears it all. the. time. it may be time to upgrade him to a luxury fleece robe!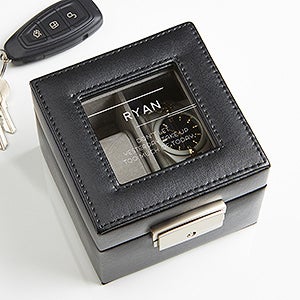 A personalized watch box can be practical if your man is a watch guy and has several that he wants to preserve, organize, or protect them while traveling.
If your husband needs or wants a new tie, I really like the look of this classic monogram men's tie or personalized tie bar made from sterling silver.
Every man needs a wallet that isn't fallen apart! It may be time to get him a new one like this leather bi-fold wallet.
A personalized travel garment bag or personalized travel case or personalized luggage tags would be great if he is a frequent flyer or travels often.
Office Gifts for Practical Men
Below are some nice gifts for the practical man who also happens to have an office, works from home, is a student, or otherwise likes technology and office supplies.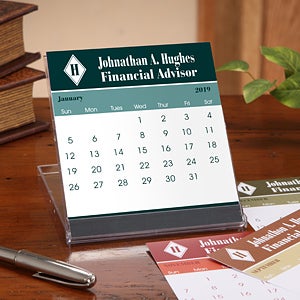 Calendars, notebooks, and planners are all basic necessities for working and being organized, but adding the personalized touch to them makes them a much more beloved item to use frequently!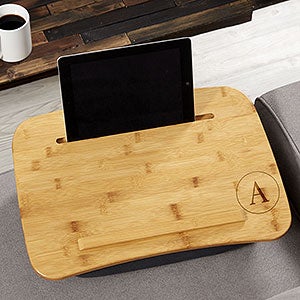 If he works from a laptop or tablet often, especially from home, or just likes to browse on them, this bamboo lap desk is super nice.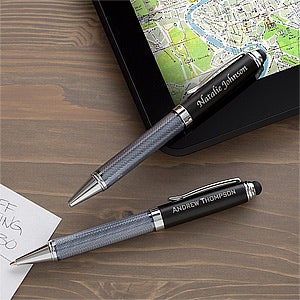 There's something to smart-looking fancy pens with your name on it, am I right?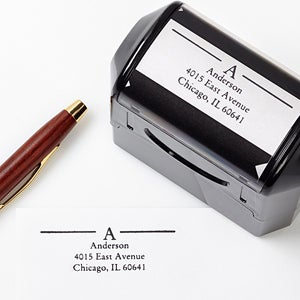 Address labels or fun personalized address stamps can save him time if he does a lot of postage stuff and make it look classier and more professional.
There really are endless practical gifts for him ideas, and we haven't even gotten into the fact that there are so many practical DIY gifts for him that you can make!
Know your practical man and what he would think is a smart, helpful gift, and then seek out how to gift it to him!
Check out my other posts for more gift guides for the whole family.