Inside: Discover 12 STEM subscription box options for kids of various ages and interests! These monthly STEM boxes for kids are sure to help foster an interest in Science, Technology, Engineering, and Mathematics!
Below you'll find some of the best subscription boxes for kids that provide hands-on stem activities. Getting a monthly box is a fun way to promote STEM education that is also so much fun.
The age range varies for these STEM projects and is created with high quality supplies. They're perfect for problem-solving skills and are loaded with educational activities. Use these STEM discovery boxes to introduce new concepts into their learning.
Here are the best educational subscription boxes for a science-loving kid.
With the way the world is going, I can't help but think my children being interested in STEM fields – that is a field in Science, Technology, Engineering, and Mathematics – would be a very wise choice.
When I think about the pace as which new scientific discoveries are being made and improvements in technology, it's hard not to believe that STEM careers are the future with the most needs!
As parents we want to help prepare our children for their futures, which is why I love getting STEM boxes (well, and other subscription boxes for kids too).
While I don't *really* think all five of my children will major or be interested in STEM-fields in the end, I want to do my best to expose them to thinking and thought-processes related to STEM.
I am not super inclined to STEM fields myself, though my husband is a mathematics professor.
But, since I am in charge of most of their education as we homeschool, I love to supplement our learning with things like educational subscription boxes, especially monthly science boxes for kids and chemistry kits.
Today, I am focusing solely on STEM-focused monthly subscription boxes. These boxes will get your child calculating like an engineer, engaging in science, and doing some tech work!
Enjoy finding just the right box for your child! There are STEM boxes for preschoolers, kindergartners, first graders, and well beyond into the middle school and high school years too!
Use the table of contents below to jump to a particular box and learn more about it.
STEM Boxes for Kids
1. Creation Crate
A really great STEM gift subscription box is Creation Crate!
This one is for older children or kids ages 12 and older.
Each month children receive an electronics project that teaches them how to program and build electronics, through the use of online courses (including in the cost).
This STEM subscription box teaches coding (C++), circuitry, engineering, critical thinking, and more with hands-on projects. The cool thing too is that the projects become progressively challenging each month.
We just got our first Creation Crate box (even though our oldest, twin girls, are only 9 – it just meant they needed more help). And we built a mood lamp! Order by December 31 to get this same box!
Get the Creation Crate on Cratejoy!
2. Club SciKidz Labs
Club SciKidz introduces children to the mysteries of science and technology through terrific projects and experiments. Each box contains a variety of career-based activities such as: Veterinary Medicine, Robotics, Food Science, Programming, and More.
These monthly science kits contain challenging science and technology experiments, creative engineering projects, nature crafts, micro activities and observations, secret formulas, science quotes and riddles, inspiring scientists, an exclusive interactive lab notebook, and a little science fiction and science surprise each month.
Plus, they receive real lab equipment so they can start building their own home lab!
Best for kids ages 7-12, a monthly subscription is $34.95 with larger subscriptions available to reduce the monthly cost up to $28.95/month for a yearly subscription when paid upfront in-full. All have free shipping.
Sign up for Club SciKidz today!
3. MEL Chemistry Kits
MEL Science is one of my very favorite on this list! It is a monthly chemistry kit delivered to your door each month.
Each kit contains 2-3 experiments and all the equipment and supplies needed to conduct the experiments, with enough chemical reagents for at least 2 attempts.
With your MEL Science subscription, you'll get access to over 25 different VR lessons to help your child really get immersed in the science of their experiments and learn (and not just have fun playing with chemicals).
MEL Chemistry kits are $34.90/month with free shipping, and your first starter kit is included in that price. However, you can use promo code FAGANS for 25% off your first month!
They recommend your child be 10 years or older, however, with proper adult supervision, children as young as 6 could enjoy and learn from the experiments.
Our family received starter kit and experiment box Chemistry of Monsters and my 9-year-olds loved it.
We also received the MEL Kids Crystal box and it was so perfect for my 4 and 6-year-old children to do together with me. The VR really brought the science to life for them too.
Sign up for MEL Science Chemistry kits here. Don't forget to use FAGANS for 25% off your first month.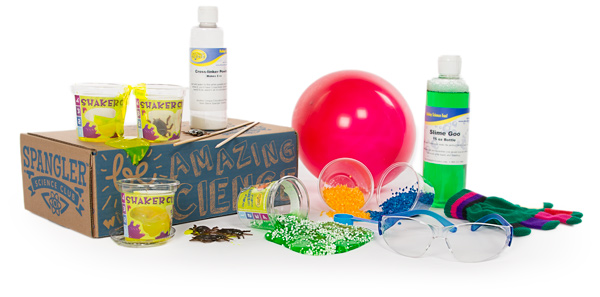 4. Steve Spangler Science Club
The Spangler Science Club features the coolest hands-on science experiments and inquiry-based activities designed by Steve Spangler and his award-winning team of science educators.
Each month you'll receive a box filled with the science tools and resources needed to conduct experiments and take-it-further challenges that combine the perfect mix of critical thinking, tinkering, and fun.
It's the perfect science spark for kids in grades K-6, or ages 7-14, and each month has a new theme.
Subscriptions start at just $19.99 a month for up to 5 STEM experiences, $29.99 (free shipping) for up to 10 STEM experiences each month.
You can, however, use the following Steve Spangler promo codes!
Use code SHARE20 for $20 off your subscription
Use code BOX60 to take 60% off your first box
Use code 10CREDIT to take $10 off your first box
5. Kiwi Crate
Designed for kid ages 5-8, Kiwi Crates are a crafty, hands-on way to get those early elementary students interested in STEM subjects and learning generally.
Kiwi Crates help kids tinker, create, and innovate every month, complete with all the tools they need.
You can see some of my past reviews of Kiwi Crate boxes here:
Subscriptions are $19.99/month or as low as $16.95/month when you pay for a full year upfront. You can also order individual boxes from their store.
Get $10 off your First Month of a Kiwi Crate Subscription with promo code SHARE10.
6. Tinker Crates
Great for kids ages 9-16+ who are into science engineering, each monthly Tinker Crate comes with all the materials and instructions required to make an awesome STEM project, along with additional science experiments and activities and video tutorials.
Monthly Subscriptions can be as low as $16.95/month (if paying for a yearly subscription) or just $19.95/monthly. You can cancel anytime. And they can easily be gifted!
Use code SHARE30 to take 30% Off Your First Month of any KiwiCo product!
7. Green Kid Crafts
Green Kid Crafts is an award-winning STEAM discovery box that offers between 5-8 individually packaged science, technology, engineering, art, and math kits for kids ages 2-10.
The boxes are themed and come with quality eco-friendly materials and step-by-step instructions.
Their new Junior Discovery Box Subscriptions are educator-designed for kids ages 2-4 to encourage play-based learning. Each Junior Discovery Box will include up to 6 or more STEAM kits, quality project materials, step-by-step instructions, and achievement badges.
RELATED: Check out 10 of the Best Monthly Subscription Boxes for Toddlers
They also just launched their Literary Discovery Box Subscription! This option includes an age-appropriate, educator-approved book shipment related to each month's Discovery Box theme.
Books are carefully selected to reinforce each month's theme and are guaranteed to enhance STEAM learning concepts.
We've received six or more Green Kid Craft boxes in the mail over the years. They are currently my favorite kids' subscription box!
Very fun and great for my 5 (now 6) year olds, especially to use in our homeschool. Love them! See my full review of our first two boxes HERE.
All boxes are $17.95-$27.95/month depending on subscription length and which discovery box you choose. You can also buy individual boxes for $24.95.
Or use discount code FAGAN50 and get 50% off the first month of a new subscription!
To view their subscription options and Discovery Boxes and Kits, go here to start saving!
8. BitsBox
A subscription box that teaches kids to code!
Bitsbox provides kids ages 6-11 something new and exciting to build, or code, on a regular basis. Each month your child will receive a dozen app projects printed in books, cards, and on toys.
The coding projects pair with an online coding environment and result in real apps that work on real devices.
The subscriptions can be delivered via monthly download or in the mail.
Subscriptions start at $16.95/month for the digital Bitsbox, $24.95/month for the box (with free shipping) and as little as $37.95/month for the Deluxe Bitsbox.
Sign up for Bitsbox: an educational subscription box that will teach your kid to code!
9. Genius Box
Explore a new STEM topic with 3+ hands-on activities delivered each month from Genius Box.
Each box contains a narrative story and activity cards to explain topic and activities in a fun, engaging way. Best suited for kids ages 8-11, all the materials are included to foster curiosity and a passion for science, technology, engineering, and math in a fun and engaging way.
This monthly science kit starts at $26/month (with free shipping) for 6-month subscriptions paid upfront.
Plus, it's easy to order as a gift and for every Genius Box purchased, they donate $1 to ManyMentors.
10. Groovy Lab in a Box
Groovy Lab in a Box subscription service provides young STEMists with fun, hands-on projects and an engineering design challenge – all focused on that month's STEM topic.
All STEMists will receive materials and a Lab Notebook, where they can read about that month's topic, perform investigation activities and document their findings.
They will investigate, brainstorm, plan, build, test and redesign their own creations. STEMists also receive access to a special "Beyond…in a Box" online learning portal. It's usually best for kids ages 8+.
Cost is $24.95 – $29.95 depending on how long of a subscription you want. Shipping is free. If you order a 12 Month Subscription, you end up getting 2 boxes for FREE, but you have to pay upfront.
Sign up for Groovy Lab in a Box HERE.
11. The Young Scientists Club
Each month your child can explore science with Ms. Frizzle or Clifford the Big Red Dog with a monthly subscription box from The Magic School Bus Science Club Kit (ages 5+), the Clifford the Big Red Dog Science Club Kit (Ages 3+), The Young Scientist Club (age 5-12).
Every kit comes with a colorful themed manual with a supply bag to do the experiments, plus a monthly e-newsletter, online clubhouse for further exploration, and a certificate of completion.
They cover a wide range of topics from chemistry to anthropology. Some adventures include building a volcano, growing crystals, and learning how to track animals.
The Magic School Bus Club kits are $120 for an entire years' worth of kits on Groupon.
Clifford the Big Red Dog Science Club kits are sold as individual kits on Amazon for around $20 each.
12. Amazon STEM Club Toy Subscription
Did you know Amazon has a STEM Club Toy Subscription?
Each month they ship you discounted STEM toys, handpicked by Amazon's Toy Experts. These toys work to develop a child's skills in logic, creativity, and problem-solving.
They have three different subscription plans, based on your child's age: 3-4 year olds, 5-7 year olds, and 8-13 year olds.
Your first month is $4 off, making it only $15.99 (with free shipping, of course), and then each month after that is $19.99/box plus taxes. But, the toys your child receives are up to 40% off through this membership, making it a great way to get STEM toys for cheap!
You can subscribe to Amazon STEM Club here.
It's going to be hard to choose where to start on this list of best STEM subscription kits. They make a great gift, and will introduce the kids to a world of science. Use these monthly STEM kids to peak your child's interest and also explore new STEM topics. Any of these options for a monthly science subscription box are perfect for a different theme! Have fun with these monthly STEM kids!
If you like subscription boxes for kids, be sure to check out these other box ideas too: