Celebrate Christmas was a nativity advent calendar! Check out all the beautiful Christian advent calendars! I found a great variety of wooden nativity advent calendars, felt and fabric advent calendars, magnet advent calendars, and more! Enjoy these more religious advent calendars! 
Each year we try hard to make sure that in the whirlwind of Holiday events, activities, and traditions, that we are focusing on the true meaning of Christmas – the celebration of the birth of our Lord and Savior Jesus Christ.
It's easy to get caught up in various activities this time of year, even good things like service and charity work, but for kids, media messages still bombard them with endless ideas of stuff that they want and need to have in order to have a happy Christmas morning.
That's why I love having so many different things that help us focus on the Savior, so many nativity items! It's why we read children's Christmas books that focus on the Savior, color nativity coloring pages, get out our favorite kid nativity sets, and don nativity costumes while we act out the nativity story found in the scriptures.
Any excuse to talk about the Savior is a great thing in my book!
That's why I think it's great to do a nativity advent calendar!
Instead of opening an advent calendar to reveal a new piece of candy or a small toy (like these toy advent calendars do and even these unique advent calendars for kids), why not have them open up to reveal a scripture passage about Jesus or reveal a character from the nativity scene or otherwise have them countdown (like Mary and Joseph were) to the day the Savior would be born and change the world forever!
I searched around and discovered so many great and amazing nativity advent calendars, including felt nativity advent calendars, cloth nativity advent calendars, magnetic nativity advent calendars, and other Christian advent calendars with Bible verses. Many are children's Christian advent calendar but feel free to use them for teens and adults alike!
Enjoy finding the perfect nativity advent calendar for your home and your family and friends for this year!
Nativity Advent Calendars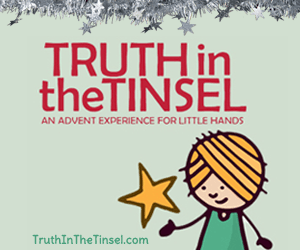 If you love to craft, and want to craft and create each day with your children or grandchildren leading up to Christmas, you should check out the Truth in the Tinsel advent ebook!  Truth in the Tinsel is a 24-day countdown to Christmas. Each day you and your children read a passage of Scripture from the Bible, make a simple ornament and talk about God's Word together. At the end of Advent, your child will have a tree full of handmade ornaments and they will be able to tell the whole Christmas story!
The Shepherd on the Search Advent Calendar. This pairs perfectly with Dayspring's adorable Shepherd on the Search Advent Activity Set.
The Shepherd on the Search is getting ready for Christmas—join in the preparations and countdown to Christmas with this special 'The Shepherd On The Search' advent calendar, perfect for families.  Enjoy fun, family interaction as you open a new window each day—discover where your Shepherd is in his search for the Messiah, receive a couple of hints as to where your Shepherd may be hiding, and join your Shepherd in finding Christ in Christmas. Retails at $7.99.
Nativity Advent Calendar. This Christmas start a family tradition with this Nativity Advent Christian Calendar. Open one window each day of the twenty-five windows for conversation starters to help you and your family keep the focus on Jesus this Christmas season. Retails at $3.99.
For more kids advent calendars like this but with different images on the covers, or to buy them in bulk, check out the following:
3 Kids Nativity Advent Calendars. Countdown to Christmas three different ways with a Scratch N Reveal advent calendar, sticker advent calendar scenes, and an advent calendar with a story! This cute product is only $8.99!
Bethlehem's Child Sticker Advent Calendar. Perfect for kids who love stickers and love Jesus and Christmas, this simple sticker nativity advent calendar will delight your kids each day leading up to Christmas. Retails for $5.95.
If you like these sticker advent calendars, check out this one and this starlit stable one.
The Christmas Star from Afar Advent Calendar and Game. Set up your nativity then hide the Star every night! Once your children find the Star move all Three Wise Men to its location. Read the optional scripture, repeat On Christmas Eve but place your Star on the top of your nativity stable so that on Christmas morning your Three Wise Men reach the nativity scene and find their king, baby Jesus! Bonus that it includes a kids wood nativity set! Retail $36.99.
Peanuts Christmas Advent Calendar. This delightful advent calendar, featuring beloved Peanuts characters, will focus your mind and heart on the true meaning of Christmas as you make preparations and countdown to the big day!  Fun for the whole family! Plus there are fun games and activities on the back. Retails at $3.99.
Advent Calendar Nativity Wall & Window Clings Set. This set is an easy-to-introduce family tradition that gets kids excited about the birth of Baby Jesus. Transform any smooth, indoor surface—wall, mirror, glass, metal, and more—into a beautifully detailed Nativity set. Just peel and stick. The countdown Advent calendar clings are durable and can be stored for using next Christmas, too. Retails at $14.99.
Nativity Fabric Advent Calendar. This beautifully crafted cloth nativity advent calendar comes with velcro affixed stuffed figures that are removed from the pockets and added to the scene each day of Advent. A soft sculpture Nativity scene depicts the birth of Jesus as the Star of Bethlehem guides you closer to this holy day. A Kubla Crafts product. Calendar measures 18″x26″. Retails for $39.95.
If you like this, you can also check out this other fabric nativity advent calendar and this Pockets of Learning felt nativity advent calendar.
Cloth Nativity Advent Calendar from Pockets of Learning. This large 30″x21″ layout is great for kids to pretend and imagine with the silk-screened fabric and Velcro tabs on their back figurines.
Veggie Tales Cloth Advent Calendar. This adorable cloth nativity advent calendar features some soft veggie-styled members of the Christmas story, with numbered pockets. 

Kurt Adler Wooden Nativity Advent Calendar with Magnetic Pieces. This advent calendar by Kurt Adler allows children to design their own nativity scene over the course of the month. It gives children the flexibility to be creative and design using their imagination. It is made out of wood and is painted with a nighttime sky color. It features 24 doors around an empty manger. It has a magnetic feature behind each door making the countdown to Christmas more interesting. It measures 14.25 inches by 17.25 inches and looks attractive over walls or tabletops.
If you like Kurt Adler Wooden Nativity Advent Calendars, you can check out his smaller blue one as well! Or check out this other wood draw-pull nativity advent calendar here.
You can also get a Kurt Adler The Story of Christmas Interactive Magnetic Advent book!
The Carolers Byers' Choice Nativity Advent Calendar. This beautiful wood nativity scene with detailed, hand-crafted figures, angels, and manger. Each of the 24 numbered doors can reveal small surprises!
3D Christmas Nativity Advent Calendar. This paper calendar features glitter and 3-D characters you can set up and display in your home. Each of the 24 windows reveals a scripture too. Retails at $9.95.
No Room at the Inn Advent Calendar. This 11″x14″ nativity advent calendar has glitter on the front and each window opens to a corresponding Bible text. Retails for $6.95.
Joy to the World Advent Calendar. This 11″x14″ advent calendar with glitter on the front features 24 windows which reveal a picture and corresponding Bible text. Retails for $6.
For more nativity advent calendars similar to the two above (but with different pictures) check out the following as well. They are range from $4.96-$6.95:
Round Nativity Advent Calendar. This beautiful round wheel cardstock advent calendar features a beautiful Madonna and Child painting with windows around the side that open up to reveal a scripture verse and symbol. Retails for ~$11. If you like the round Advent Calendars, check out these stained glass windows ones: Holy Family Jumbo Advent Calendar and the Glad Tiding Holy Family 17-inch Advent Calendar as well as this cute Asleep Baby Jesus round advent calendar.
Triptych Standing Nativity Advent Calendar. This cardstock advent calendar features the nativity scenes beautiful with flaps revealing a small picture and Bible verse to tell the Christmas story. Retails for $6. You may like this similar triptych advent calendar I found.
Visiting the Manger Free Standing Advent Calendar. This 18″x9″ advent calendar has glitter and 24 windows to open with a picture and bible version revealed underneath.
I love so many of these nativity advent calendars as a special way to countdown to Christmas day and the celebration of the birth of Jesus Christ so long ago!
---
Want more Christmas content? Check out the following: