If you need a gift for 8 year-old-girl, then you'll love all of these Christmas and birthday gifts for an 8 year-old girl, no matter if it's your daughter, granddaughter, or another girl you care for. I have twin 8-year-old girls and they were definitely consulted on this list! Enjoy! These are some of the best gift ideas for any little girl!
There is something so fun about kids getting older and bigger.
Not only do they comprehend more about the world around it and their place in it, but they start forming true personalities and opinions. They are also getting taller, more physically capable of doing hard and challenging things physically. They can also understand complex ideas and sequencing!
My oldest children, twin, are now 8 years old girls. I don't know how they have gotten so big and amazing, but here we are.
Like all parents, I kinda want to spoil my children for Christmas. This is especially true of my older children, because I know they will appreciate and value the gifts we gift them at Christmas far more than my, say, 3-year-old, who would be happy with pretty much anything we got her.
I mean, my twins are pretty awesome and don't ask for much during the year, and would likely be happy with whatever they received too. But, that's kinda why, just once, I'd like to really spoil them.
They work so hard in school and around the house doing chores, and especially with our new baby!
And that's why I wanted to put together a list of items the make for perfect gifts for 8-year-old girls. These ideas would be perfect Christmas gifts for 8-year-old girls as well as birthday gifts for 8-year-old daughters.
I consulted with my twin daughters on what they really like right now and what they want, asked a few friends with kids of similar ages, and looked over what generally trending as "cool gifts" for 8 yr old girls.
I hope you'll agree with my picks, or rather, I hope your 8-year-old daughter will!
Gift for 8-Year-Old Girl
As we work to teach our kids how to manage money, slowly but surely, it can be super fun for them to have their own "money" in the form of a gift card to use for what they want to use it on.
I also find gift cards are a great way for them to have some autonomy and freedom and independence, all things I am also slowly trying to help my growing girls learn.
Plus, gift cards can be a way of saying "Hey, this promises that I will take you out for a special mom-and-daughter date or dad-and-daughter date."
One-on-one time is a fantastic gift to give, especially if they happen to have a lot of siblings (like our 8-year-old daughters do).
A great place to pick up gift cards is GiftCards.com. They offer personalized gift cards and custom greetings, physical gift cards and eGift cards. Plus, when you buy select gift cards you will earn G-Money reward points which can be redeemed for future gift card purchases.
They have the perfect gift card for 8-year-olds called the "Happy Kid Gift Card." It can be used in-store at multiple US retailers: Rainforest Cafe, Jamba Juice, Buy Buy Baby, Gymboree, and Regal Cinemas. So, if you want to spoil them with a fun dining experience, simple treat, toys, clothes, or a movie, this one card has you covered! Or you could do ALL of them (which my daughter said sounds amazing!). They offer several other "Happy Cards" options too.
Books and Learning Gifts for 8 Year Olds
Giving the gift of learning is something I'm rather passionate about as a homeschool mom. But, even if you don't homeschool, it's fun to supplement your child's learning with educational tools, games, and activities. Young girls love these magazines because they are so fun!
A great way to keep your kid learning and reading and having fun is ordering a Highlights Magazine Subscription!
In every 40-page issue, kids explore new topics, investigate fascinating subjects and find out about the world.
A Highlights magazine subscription for girls will bring them 12 months filled with stories, games, puzzles, riddles, science experiments, craft projects and activities that are as entertaining as they are educational.
Plus, Highlights never includes third-party advertising, so you can rely on it to be a commercial-free zone where your young reader can play, learn and just be a kid.
Right now they are running a sale where you can get 50% off Highlights Magazines and two FREE gifts. My girls are finally understanding jokes more (thank goodness) and picking them up a set of 4 Joke Books from Highlights would be super fun for them the further their joke knowledge, hopefully upping their game in the jokes department.
We have tried out so many different educational subscription boxes for kids over the years, but one of the best subscription boxes for kid companies is KiwiCo.

With an assortment of subscription boxes for kids of all ages and interests, there is sure to be something that fits best with your 8-year-old daughter. Consider gifting her one of the following:
Use code SHARE30 to take 30% Off Your First Month of any KiwiCo product!
All of their crates focus on STEAM learning and explorations, provide everything you need for hands-on learning, and plenty of additional information to explain the concepts behind what they're creating or doing.
Also check out my list of monthly science subscription boxes and chemistry kits for kids.
My 8-year-old daughters love reading books, and are always asking me for good book recommendations, but I'll be honest. I don't really know! I haven't read a lot of children's chapter books!
That's why I love the idea of gifting my 8-year-old daughter a subscription to Bookroo!
Bookroo is a monthly book box subscription and they offer board books, picture books, and chapter books!
Bookroo's Chapter Book Box is designed for children ages 7-10 years old and contains 2 age-appropriate chapter books, each individually wrapped: one is a hidden game and one more classic admired favorite.
It's a great way to build up their library and get them reading, which is my daughters' favorite things to do. A subscription service just makes it more fun and lets you sample lots of new and classic literature. Take 15% off your order with code BOOKS2LOVE!
Check out my full list of kid book box subscriptions for other options.
Toy Gift for 8-Year-Old Girls
Girls who are eight still very much love toys! They just like more sophisticated play. These are fun for the whole family sometimes, too!
ShopDisney is a great place to find amazing, unique, and super fun, and wanted gifts for 8-year-olds! My daughters are definitely still into lots of Disney products, especially Star Wars and Marvel characters. I know they'd have fun playing with the Rey Lightsaber from Star Wars: The Last Jedi.
ShopDisney also has some amazing Disney LEGO sets!! My girls are totally into LEGO building and creating and want several new LEGO sets for Christmas and their birthday, so why not combine Disney princesses with their LEGO building?
We especially love this Elsa LEGO locking jewelry box!
My daughters are still into dolls and pretend play, so this Arendell Castle Play set would be a hit!
Whatever Disney Princess or superhero character your child loves, ShopDisney a great place to pick up a cool toy to deepen that love.
I don't know about your girls, but mine LOVE Harry Potter, and they'd love to own a Harry Potter wand! I figured this Hermione Granger Illuminating Wand would be a big hit.
Musical Instrument Gifts of 8-Year-Olds Girls
My twins have been asking (for years) to learn how to play the guitar, or a "mini guitar" (aka ukelele).
Our twins started piano lessons (finally) at the start of the calendar year, and have proven they will practice and have a desire to learn how to play an instrument and are pretty good, so we figured it would be okay to invest in a stringed instrument as eight-year-olds.
Loog sent me a Loog Pro Acoustic Guitar for my 8-year-old daughters to check out so we could make their wish come true!
What makes the Loog Guitar really special is that they are easy to learn and play because they are designed specifically for children ages 3+!
They are smaller than standard guitars and actually only have 3-strings! With only 3-strings, you reduce chords to the basic triad, allowing for an easier and faster learning process. But, it's the same first three strings of a regular guitar with the same tuning, which means everything they learn on their Loog can be applied on a 6-string guitar as well.
The Loog Guitars, both their Loog Pro Acoustic and Loog Pro Electric, are made with a solid wood and body and maple neck and come fully assembled and with flashcards to help learn and play chords.
Loog Guitars also come with an accompanying app (for both iOS and Android) that teaches kids how to play their guitar through video lessons, helps them tune the guitar properly, and gives them songs to play from popular artists like the Beatles, Stones, Taylor Swift, and Bruno Mars, and few other cool features.
I've actually been teaching myself to play guitar (I've never learned before!) with the help of the app, along with my twins, and now know a few chords and hope to expand more upon that along with my daughters!
They love playing it all the time, making up their own little songs!
Right now you can Get 10% off all orders of Loog Guitars and accessories with code LOOG10!! Plus, there's free shipping on orders $90+.
To go along with the guitar, you can pick up some popular guitar sheet music too – think the soundtrack to their favorite movie! And if you really want to help them learn how to play guitar, sign them up for guitar lessons online with guitar lessons online with Gentle Guitar! You can even try out your first lesson FREE! We're scheduling our first lesson soon.
If you aren't keen on guitars, any type of musical instrument or music lessons are a fantastic gift for girls who are 8 years old as they are at a great age to learn an instrument and are so excited and ready to learn how to create music on their own.
Be sure to enter the giveaway at the bottom for your chance to win one for your daughter!
Clothing Gifts for 8-Year-Old Girls
I don't know about your daughters, but mine love new clothes! Why not gift them a fun seasonal clothing subscription box for girls ages 3-14 years old called Kidpik. Fashion makes the perfect Christmas gift! Fashion gifts for a tween girl with bright colors is perfect!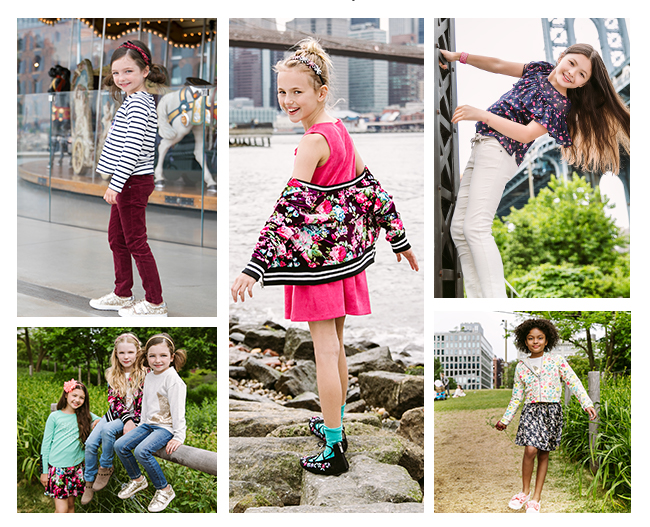 The cool thing about Kidpik is that all their designs are unique to them, and you get 7 fashion choices of clothes, shoes, and accessories for mix-and-match outfits based on what you selected for your daughter, plus a free surprise gift in every box. When you sign up for Kidpik, there are a lot of preferences that they ask you for regarding style, size, colors, patterns, etc.
Plus, there are no upfront costs, styling fees, or shipping fees. The average cost per box is just $95 or $13.50 apiece.
Board Games and Card Games for 8-Year-Old Kids
Most 8-year-olds can (finally) read pretty well and understand gameplay and are ready to expand beyond those more "preschool-like" simple games and dive into more complicated board games. These games are loads of fun and are the perfect way to combine learning and bonding. Girls this age love exploring new games!
A classic game is a good idea but young ladies are always looking for creative ways to try new games and ideas as well.
I've written a couple of posts sharing some great educational board games as well as a whole post dedicated to scientific board games should you want to teach them a little something as well (or homeschool as we do).
I was also sent some fun new games from ThinkFun that we've been enjoying playing too!
They are Cat Crimes, Laser Chess, and Shadows in the Forest. My kids loved the latter two the best, taking Laser Chess to their regular homeschool chess club (even though the gameplay is NOT your traditional chess game).
Cat Crimes is a single player puzzle with a loveable cast of characters! Each of the 40 challenges presents a crime and a series of clues to help solve it. Stashes easily in backpacks or the car for road trips. Winner of a Parents' Choice Gold Award.
Laser Chess aka "Beam Directing Strategy Game" is a two-player game that combines the spatial thinking skills of chess with the high-tech fun of laser beams. Promotes STEM learning, light and reflection physics. Winner of multiple awards, including a National Parenting Product Award, MENSA Select and Parents' Choice Silver Honor.
Shadows in the Forest is probably all my kids' favorite board games as you have to play it in the dark! It's also a fun cooperative game where strategy and guessing and more are involved for a lot of fun. This "Play in the Dark Strategy Game" is a thrilling, immersive play experience that brings a distinctive twist to game night. Promotes cooperative play, strategic thinking, light and shadow physics. As seen in Polygon and TrendHunter. Winner of a Techlicious Best of Toy Fair Award.
Be sure to enter the giveaway at the bottom for your chance to win one of these games!
Outdoor Gifts for 8-Year-Old Girl
I love getting outdoor gifts for kids because they prove super practical and encourage physical activity. You can check out my whole big post of outdoor play equipment and ideas by clicking on the image below:
I don't know about your 8-year-old, but mine are growing like weeds and have outgrown their cruiser bicycles. We often take bike rides as a family, and it's hard for our daughter to enjoy them when her bike is not the proper bike size for her.
That's why we are definitely getting her a brand-new bike for Christmas, one with gears (for the first time). It will likely be a women's adult extra-small mountain bicycle (with a frame size of 13-14 inches) or a girls bike with a wheel diameter of 24″-26″ as she's already like 4′ 9″ tall.
A great place to order a girl's bike online is Walmart.com! They offer a nice selection of bikes in various sizes, colors, and styles and often the prices are cheaper online than in-store.
Plus, you can have many of them shipped to store and assembled there for you (upon request). Some offer a "Free Pickup + Discount" which can save you an additional couple of dollars! Otherwise, they offer free 2-day shipping on most of the bicycles.
Another really cool outdoor gift idea for your 8-year-old is a bow-and-arrow! A few years ago we got a Genesis Bows and they are finally at a really great age for using it properly and more accurately. It's a ton of fun and makes them feel accomplished as they improve and start hitting the target more!
My active girls love knowing how many steps they take in a day (so they can compete against me, their mom). What I really love about the Garmin Vivofit Jr activity tracker though is you can set individual goals on it and use it as a stop watch and timer!
I have often asked my girls to get a chore done in 10-30 minutes and my daughter would just set the timer on her watch so she could get it done! Plus, they then always know what time it is too.
Arts and Crafts Gifts for 8-Year-Old Girls
My daughters love to draw, paint, color, craft, and create! A great gift for 8-year-olds is art supplies, tools, and helps to get them to learn how to do it better.
An activity book paired with different designs is great for creativity. Some even have included markers as well making it perfect for the creative type to explore on their own.
Art kits are another great option that is a good gift to cut down on screen time and encourage imaginative play. Art gifts are great for hand-eye coordination, too. (plus they're great for a birthday gift and birthday party fun as well.
A fun way to do this is with arts and crafts subscription boxes for kids! They supply all the instructions, materials, learning, and ideas for you and your daughter and often result in something fun they can use or play with!
Be sure to check out my post for the top 11 monthly arts and crafts boxes for kids if this sounds fun for your daughter!
With easy, step-by-step instructions and simple line drawings, The Drawing Book for Kids: 365 Daily Things to Draw Step By Step, is perfect for helping them draw a whole bunch of everyday objects!
My daughters are now so ready to have their own little sketchbooks so they can keep all their drawings and ideas in one spot, instead of on loose sheets of paper everywhere. Something I look forward to as well as I'm tired of loose papers all over too.
Gone are the days of fat preschool markers! My 8-year-old girls want thin tip markers or even ones like this with a brush tip!
They love adult coloring books (another great gift idea!) and coloring with markers. Just make sure you remind them (again) to put the caps back on when they aren't using them and keep them away from the younger siblings. You can also get them higher-quality colored pencils, and gel pens. 
My girls are totally at the stage where they want to create and craft and make gifts and other items all the time. That's why something like this book "How to Make Jewelry Out of Anything" is an awesome gift for 8-year-old girls!
It's not just another jewelry-making book, but a full guide to crafting outside the box and learning how to make jewelry out of anything. The book has beautiful step-by-step pictures and instructions and teaches basic jewelry making too.
Grab the book and something like this Jewelry Starting Kit, and your 8-year-old daughter will be ready to craft!
Friendship bracelets are still very much in style! My 8-year-old girls love (trying) to make bracelets, and this Bracelet Maker makes it super easy for them to do so!
One of my 8-year-old daughters, Lisa, likes doing her nails and thinks it would fun to have stylish nails with pretty designs on them, which is why this ALEX Spa Sketch It Nail Pens Salon is a great gift for a girly girl 8-year-old!

If your 8-year-old wants to learn some skills, is into fashion or accessories, a sewing machine is SO fun!
There are some kid sewing machines out there that really only make a few crafts and aren't real sewing machines, and I honestly, can't recommend those.
Consider this gift an investment into the next several years of her learning how to sew, and get yourself a real sewing machine.
I like this Singer Start 1304. Singer is a great name brand for sewing, but this model is basic, simple, and easy to use, with 6 Built-In stitches, all with pre-set stitch width and stitch length.
But, if you want more ideas, you can check out my friends' post about the best sewing machines for beginners.
If you get her a sewing machine, also sign her up for a sewing class! There are likely some near you, or you can take one online through a site like BluPrint.
While you can gift your girl slime kits (like a Crayola Slime Kit), it's super fun for them to have an entire book about how to make slime from a variety of different materials, many of which they'll already have on hand! That's why I love The Slime Book!
Several of the recipes in The Slime Book are even edible! How fun is that? Well, maybe it'll be fun for your 8-year-old daughter at least.
Also, remember this – I have a tutorial on how to get slime out of carpets. So go ahead and let them get their slime on!
Electronic Gifts for 8-Year-Old Girls
I saved these for last because we aren't big on electronics for our kids in our household, but obviously, tablets and tech stuff are something 8-year-old girls still often want!
The good news is that electronics can be a great gift that can be monitored as well.
If you are looking for a tablet, I think the Kindle Fire 8 Kids Edition Tablet has to be one of the best buys. They aren't very expensive, come in a kid-proof case from the get-go, can hook up to loads of popular apps, and can be set up with parental controls easily.
What girl doesn't want to be able to take photos when they want to take photos? Well, with a VTech Kidizoom Duo Selfie Camera, your daughter can stop asking to borrow your phone to take pictures and take one herself!
The camera is a real digital camera that can take photos and videos and is built to withstand those inevitable drops and tumbles. It even comes with five little games you can play too. 
It's the 21st Century, and robots are a real thing! This Anki Cozmo is a fun and educational toy robot for kids! Your 8-year-old girl can challenge your Cozmo to games, use Explorer Mode to see things from his perspective, and learn to creatively code.
---
If you are looking for even more gift guide ideas, check out the following Gift Guides for Kids from some of my fellow bloggers: